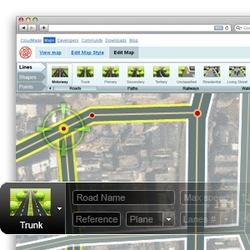 Menlo Park, CA (PRWEB) July 27, 2010
CloudMade has raised $ 12.3M in a Series B investment round led by new investor Greylock Partners, which joins existing investor Sunstone Capital. The company will use the funds to further accelerate its work to build the world's most comprehensive map and geo database, and serve this data to developers, device manufacturers and mobile operators through its comprehensive mapping platform.
"This new funding will enable us to significantly expand our support to developers and businesses in building and monetizing apps, products and services that use maps and location," said Juha Christensen, CEO & Chairman of CloudMade. "We're thrilled to have additional backing from Sunstone and a new investment from Greylock and look forward to leveraging their joint expertise."
Unparalleled by any existing product, CloudMade's versatile mapping platform was built solely for developers and large customers, such as device manufacturers and mobile operators. This is reflected by its quickly expanding 12,500-strong developer community and its growing customer base. CloudMade's platform allows third parties to easily create applications with stylized and customized map tiles, fully featured turn-by-turn navigation, in-app advertising, local search and data sets relevant to thousands of consumer activities. CloudMade's best-selling developers' apps include: Skobbler, OffMaps, Geocaching, Trails, Ride the City and GayCities.
CloudMade works alongside OpenStreetMap (OSM), a wiki map of the world with over a quarter of a million users worldwide (3,500 new users per week), making over 7,000 edits per hour. Early this year, CloudMade introduced the 'It's Your Map' initiative to stretch the bounds of the OSM community by providing user-friendly apps that enable non-technical people to become map contributors. This new funding will also allow CloudMade to build out and add to its popular suite of consumer mapping products, Mapzen, which severely reduce the complexity of mapping and makes mapping fun for all.
The diverse team behind CloudMade includes the co-founder of Symbian and ex-Microsoft senior executive Juha Christensen, OpenStreetMap (OSM) founder Steve Coast, long-time OSM contributor Nick Black, and former Symbian and SurfKitchen executive Jim Brown. CloudMade was established to help developers create compelling location enabled applications and to simplify the way people contribute to OSM. CloudMade earns revenue though location based advertising, geo data and premium mapping services.
"CloudMade is leading a dramatic change in the way maps and location data are being created, distributed, used and monetized," said Greylock Partner Arnon Dinur, who joined CloudMade's Board of Directors as part of this investment. "We believe that consumers' and developers' needs for daily updated maps with greater detail and relevance, will explode in the coming years. Using CloudMade's platform enables the best return on investment to meet this growth."
"We're pleased to continue our support for CloudMade and the OpenStreetMap initiative, which is disrupting the traditional mapping world with its crowd sourced approach and unique product offering," said J