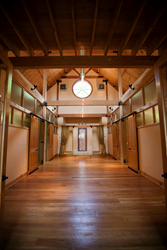 Colts Neck, NJ (PRWEB) April 09, 2015
Creative Marketing and Design Solutions, central New Jerseys preeminent digital marketing agency has acquired, and will be moving their corporate headquarters to an award-winning commercial space in the Colts Neck community. Previously located in Middletown, New Jersey, CMDS has experienced tremendous growth across the digital industry over the past two years and is excited for the opportunities the April 15, 2015 expansion will bring.
These are exciting times for CMDS. With the momentum that continues to build, we are thrilled to now be headquartered in a beautiful new office space in an award-winning building, Chris Mulvaney, CEO of CMDS. Demand for our marketing services is booming. So, we need more space to expand all facets of our business to improve client services and provide even more room for growth.
Constructed in 2004, the 5,000 square foot building located on route 34 has a meticulously customized design with the capability to continue to expand for additional office spaces. CMDS strategically chose this building, in this town from many competing options, because they embody the mission and philosophy of CMDS and its client base.
CMDS also plans to leverage part of the new space as a dedicated green screen room, providing highly in-demand filming and video production capabilities for clients. The open floor plan will provide greater efficiency in how CMDS serves clients by improving their internal and external communications, enhancing operational efficiencies and supporting the evolution at the pace clients need. The whole building is wired with individual room-controlled sound and top-of-the-line technology to allow for holding regular marketing evaluation sessions and hosting digital marketing educational workshops for local CEOs and executives.
Because the nature of what we do is instantaneous, the work involves a lot of cutting edge technology, and inspiration that fosters innovation and creativity. Set in the midst of an oasis of tranquility with breathtaking views of the golf course, Colts Neck Township awarded this building, Excellence in Architectural Design in 2009; making it the perfect environment for unleashing the teams vision for thought-provoking website designs and marketing campaigns. This is a very important move for CMDS; I dont think we could have found a better location for our expanding team.
About CMDS:

CMDS is an award-winning,full-service boutique NJ marketing company that has provided the best marketing, website design and development, online advertising, search engine optimization, copy writing and social media management services to a diverse group of high-end businesses since 2002. Previously headquartered for 10 years in Middletown, New Jersey, CMDS will be making this geographically strategic move to help recruit and retain even more top talent to keep up with the business development demands. For more information, contact Vice President Temi Mehta at (732) 706-5555