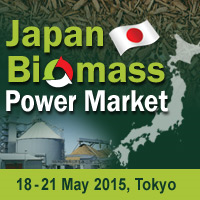 Tokyo, Japan (PRWEB) April 07, 2015
Anticipation is building for the 4 day intensive summit that will feature a number of biomass projects and key stakeholders involved in meeting Japans target of increasing power generation from renewable sources to 50 percent by 2020. Among the whos who are Yoshinobu Kusano, General Manager, Biomass Business Team, Sumitomo Corporation sharing an overview of Japanese Biomass Potential in Power Generating Industry and Hiroki Mori, Technology Management Division, First Energy Service Co. Ltd. (FESCO) speaking on Operational Updates of FESCO's Biomass Power Plants.
One of the most striking sessions is the Potential Business Opportunities for Wood Pellets in Japan delivered by Shintaro Ikeda, Assistant Manager, Energy Trading Dept., Sojitz Corporation. Addressing the key topic of Biomass Availability within Japan is Miyuki Tomari, President, Biomass Industrial Society Network (BIN).
The summit also brings a slew of interesting sessions: