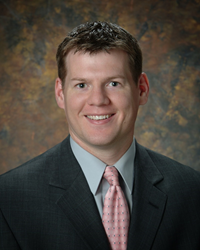 LENEXA, Kan. (PRWEB) April 08, 2015
After conducting a nationwide executive search led by healthcare leadership solutions firm B. E. Smith, Coffeyville Regional Medical Center in Coffeyville, Kan., has hired Mark Woodring as chief executive officer. A skilled healthcare executive with more than 15 years of leadership experience, Woodring will assume his new duties on Monday, May 18.
We are excited to have Mark lead Coffeyville Regional Medical Center. He brings extensive community healthcare experience, a proven record of strategic decision-making and a passion for delivering high-quality, patient-centered care, said Neal Barkley, chairman of the Coffeyville Regional Medical Center Board of Directors. Marks positive leadership style will greatly benefit our organization and the community.
Formerly, Woodring served as associate administrator of operations at Truman Medical Centers in Kansas City, Mo. In this role, he provided leadership for the safety net health system which included an acute care hospital and long-term care center. Previous executive positions include serving as chief executive officer at Myrtue Medical Center and Shelby County Medical Corporation in Harlan, Iowa and assistant administrator at Keokuk Health Systems in Keokuk, Iowa.
Coffeyville Regional Medical Center was seeking an inspirational healthcare executive to lead organizational strategy and build strong relationships with the community, said Mick Ruel, vice president of executive search for B. E. Smith, the healthcare executive search firm who conducted the nationwide CEO search for Coffeyville Regional Medical Center. Marks experience and leadership style were the perfect fit.
Woodring earned his doctorate in health leadership from the University of North Carolina at Chapel Hill, a masters degree in healthcare administration from the University of Iowa and a bachelors degree in risk management and insurance from Bradley University. He is a fellow of the American College of Healthcare Executives (ACHE).
About Coffeyville Regional Medical Center:

Coffeyville Regional Medical Center (CRMC) is a licensed 88-bed, not-for-profit regional medical center established in 1949. The facility has undergone expansion and renovation over the years to meet the needs of the community. Today CRMC provides comprehensive medical care serving more than 45,000 patients annually. Offering cancer treatment for over 30 years, CRMCs Cancer Program is significant. The program was accredited by the Commission on Cancer of the American College of Surgeons in 1992, and has maintained accreditation to date. Late in 2009, construction began on a new radiation oncology center to compliment the Tatman Cancer Center, which provides medical oncology (chemotherapy) services. The $ 10.5 million, 18,580 square foot radiation oncology facility opened in November 2011 as the Jerry Marquette Radiation Oncology Center. An alternate care site is located in the basement of the new center to serve as a patient shelter in the event of a disaster, or as a secondary treatment room. Learn more about Coffeyville Regional Medical Center at http://www.crmcinc.org.
About B. E. Smith:

Founded in 1978, B. E. Smith is a full-service healthcare executive search firm and the top-ranked provider of senior-level leadership services including Interim Leadership, Executive Search and Advisory Services. Veteran healthcare recruiters and regional healthcare experts partner with each client to create customized solutions. B. E. Smiths proven methodology has resulted in the recent placement of more than 900 leaders into healthcare organizations worldwide. The firm utilizes a comprehensive sourcing strategy incorporating the latest marketing techniques, association partnerships, social networking and one of the largest databases of skilled senior-level healthcare executives in the industry to deliver immediate results in todays complex healthcare environment. For more information, visit BESmith.com or call 855-254-8261.