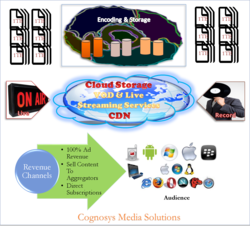 Pune, Maharashtra (PRWEB) June 30, 2013
CogMedia is a cloud based digital media management platform that gives you complete control over your media with built-in Digital Rights Management (DRM) to safeguard your intellectual property rights, Content management (Digital Asset Management or DAM) with efficient scalable storage integration, and high performance delivery mechanism of digital assets, encompassing video, audio, images, documents, etc. CogMedia is a complete end to end digital media management solution that is useful to both content providers and content publishers.
CogMedia catalogs, protects and publishes media assets in a efficient cost effective and scalable manner with high performance metadata lookup. Publishers can use the Push-to Publish features to simply drag and drop media from local computer to cloud with various encoding types automatically taken care of with preset management. CogCache's Robust middleware provides high performance Media ingestion, encoding and distribution with it a right choice for managing very high loads both of media ingestion as well as ever increasing number of viewers. Digital Asset Management features with CogMedia provide the tools to convert video from any format to any format including the popular formats like MP4, H.264, 3GP, WMV, AVI, MOV etc., providing streaming output which work across devices ranging from Windows, Apple Mac laptops to various phones & tablets including Android, iPad, iPhone, Blackberry.
CogMedia Digital asset management helps with Information audit,