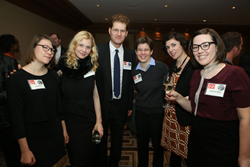 STATEN ISLAND, N.Y. (PRWEB) November 25, 2014
An educator at the College of Staten Island (CSI), CUNY, was recognized during a recent Washington, D.C. gala as one of the 100 Leading Global Thinkers of 2014.
Michael Mandiberg, an associate professor in CSIs Department of Media Culture in the Division of Humanities and Social Sciences, was selected for the distinction by Foreign Policy (FP) magazine for his work on Art+Feminism, an initiative focused on bolstering a more balanced presentation of art, feminism, gender studies and LGBTQ issues on Wikipedia.
Prior to the Nov. 17 dinner celebration in the Four Seasons Hotel, Mandiberg and co-honorees from across the globe gathered with U.S. Secretary of State John Kerry for "Transformational Trends: A Year of Disruptive Thinking, a policy conference, now in its third year, where Kerry gave the keynote address.
The event was jointly sponsored by FP and the State Departments Policy Planning Staff. Others honorees included such people as artist Kara Walker; cryptographer Phil Zimmerman; Hong Kong student activist Joshua Wong, and Drs. Kevin Whaley and Larry Zeitlin, creators of the Ebola drug Zmapp.
Mandiberg and his collaborators Si