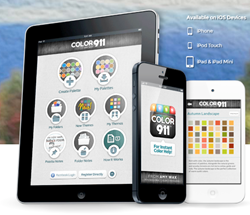 Montclair, NJ (PRWEB) October 01, 2013
Color911 is a priceless tool for creating one's own colors, providing creative inspiration, planning and design organization. This user-friendly app provides color help at one's fingertips and was featured in Apples app store as a New and Noteworthy release. Designed for anyone from artist to homeowner to the design professional Color911 encourages the user to explore the many ways of finding colors that inspire. Having been created by a designer and not a company selling a product, this app can be used to help select products from any company.
With an unlimited number of colors available in every creative field nowadays, the need for color help is even more crucial than ever before. The app makes it easy to create ones own colors, organize them into palettes and share via social media. The user can email their color palette to friends or design professionals allowing the color conversation to flow with the help of visual aids. This app is a must-have for professionals that would benefit from communicating the colors incorporated in their designs.
Color911 also provides a feature allowing the user to capture the colors that inspire them from any image. There are several ways to choose the image, selecting the colors to use from the image is a feature unique to Color11 and is a priceless tool to have.
When looking for color inspiration, Color911 also includes a wide variety of color themes personally created by color expert Amy Wax. Included with the app are 70+ pre-made color themes, so the user can visualize colors together without having to create them themselves. Amy Wax an award winning color consultant, personally created the color themes within the app, Additional features allow the user to take notes to be saved within their palettes, organize the palettes into folders and add notes to the folders as well for organizational purposes.
An invaluable tool for anyone who uses color, The Color911 app provides color help whether interested in Fashion, Decorating, Graphic design, Fine Art or DIY. The Color911 app has been called a game changer in the creative world. Nationally recognized it has been featured by Apple in the app store, and is designed for the iPad, iPhone & iPod touch.
There is so much more to learn about Amy Wax, and about the Color911 app Meticulously planning every detail for optimum visibility, layout and functionality, Color9111 was designed by an artist to be user friendly and helpful to anyone who opens it. No set up or learning time is required, it is designed so the user can jump right in, have fun using it and getting immediate results.
This is a lot more fun than I expected was always the first comment people made as the app was being tested prior to its release. Years of research was invested as to what functions people needed most and omitting what was not needed to maintain the clean and efficient design, Amy researched many web design companies from across the country before deciding to work with SEM Geeks, the app development company. Working closely with them during every stage of Color911s development even the smallest detail was crafted to be easy to use, yielding immediate results. The terminology used as well as the placement of every design element within the app was planned to be friendly helpful and motivating. Playing with this remarkable app is a rewarding creative experience.
About Amy Wax & Color911

Amy Wax owner of Your Color Source Studios, Inc. has been a successful color consultant that has been nationally recognized for her expertise. Author of best selling books Cant Fail Color Schemes published by Creative Homeowner she received numerous awards on her work including Book of the Year and Independent Publishers Award Gold Medal Winner. She is a past President of the International Association of Color Consultants of North America. The first color consultant to be awarded the HUE award from Benjamin Moore for her expertise in the selection and application in the use of color, many believe she spearheaded the color consulting industry. She created the Color911 app which is being credited as the best app of its kind and a must have for people that enjoy the use of color as much as she does!
See an overview and more info on the home page: http://www.color911.com.