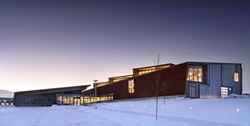 Denver, Colorado (PRWEB) April 24, 2015
Boulder/Denver architecture firm Arch11 has won the prestigious international World Architecture News (WAN) Commercial Award for its design collaboration with Portland-based ZGF Architects on Pearl Izumis North American Corporate Headquarters in Louisville, Colo. For the jury, the design stood out in a category filled with a huge range of fantastic projects, including office, retail and hotel building types for its singular response to the surrounding rural landscape.
It is an honor to win an award with this level of international competition, says Arch11 principal E.J. Meade. The Boulder area is at the forefront of the new paradigm for workplaces that are sensitive to the lifestyle of employees as well as the needs of the business. It was an exciting challenge to reinforce Pearl Izumis approach including a meaningful connection with the natural environment on multiple levels through the architecture of the work space itself.
Like its outdoor-loving, athletic customers, Pearl Izumi envisioned an equally high-performing work environment for its employees to support its longtime goal of developing the worlds foremost line of technical-performing and quality manufactured sports apparel. The design of its North American headquarters, was a demonstration in artfully integrating complex programmatic elements within a new 54,000-square-foot energy-efficient structure, including open and transparent offices along with shared amenities that include a fitness room, a living room, collaboration spaces, break areas, bike room, locker rooms, a protected courtyard, porches and an outdoor amphitheater. By limiting vertical separation between spaces the design naturally encourages interdepartmental exchange.
With an emphasis on research and development, prototyping and testing, and committed to the ideal of exercising outdoors 365 days a year in any conditions Pearl Izumi wanted its building to have a connection to the outdoors and a conversation about being of the land, not just on it, says Meade. The building reconstructs the hillside on which it is sited. With immediate access to recreation trails and dramatic views of the areas famed Flatiron rock formations, the elongated floor plan is oriented outward so wherever you are, you have a view to the landscape, explains Meade.
To pay homage to the sites agrarian roots, the architects selected a minimal palette of natural weathering steel, concrete, glass and recycled snow fence for cladding, enhancing the low-slung buildings appearance of organically emerging from the ground plane. The international WAN jury praised the projects beautiful response to the landscape and its elegant composition of rusting cladding against the open fields and mountains.
About Arch11:

Founded in 1993, Arch11 has gained recognition for projects ranging from exceptional residences to institutional planning, mixed-use development and product design, including a 2009 Firm of the Year Award from the Colorado AIA North chapter. With offices in Boulder and Denver, Colo., Arch11 has 30 combined years of green building technology leadership. The staffs unusual level of hands-on experience ranges from boat building to furniture making, contributing to its reputation for commitment to craft, detailing and design integrity. For additional information visit http://www.arch11.com.
Media Contact: Darla Worden, WordenGroup Public Relations, darla(at)wordenpr(dot)com, 303.777.7667