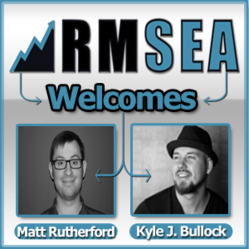 Denver, CO (PRWEB) May 19, 2013
SEO training company Rocky Mountain Search Engine Academy (RMSEA), in an effort to increase the output of quality SEO training material available to its students and visitors to its website, has expanded their marketing team. The new associates are Kyle Bullock and Matthew Rutherford. The focus for these two new associates will be to enhance RMSEA offerings and provide more value to their Search Engine Optimization (SEO) course attendees. The enhanced value will come from more frequent SEO tips and tricks newsletter publication, new online training and refresher content, additional support for the SEO Mastery mentorship program, and much more.
Our SEO training workshops provide a tremendous amount of information in a short amount of time, explains Ross Barefoot, Lead SEO Strategist for RMSEA, but we feel that our students also will benefit from access to a steady stream of cutting edge SEO training knowledge. We also believe that people just becoming familiar with SEO will benefit from much of the information we publish on the site that we make publicly accessible, Barefoot continued.
An award-wining artist, Kyle Bullock comes to the Rocky Mountain Search Engine Academy after working as a freelance photographer and designer. Bullock also has experience as a fluid dynamics engineer. Barefoot observed that Kyle has a pretty unusual range of talents, having worked both in graphic and industrial design, and its that type of versatility thats a tremendous advantage in the world of SEO. Bullock is helping the team offer free SEO Audits for small business, as well as helps to develop and implement SEO Strategy.
Matthew Rutherford was brought in to the Rocky Mountain Search Engine Academy to help increase the Social presence of RMSEA and work on content delivery and development. Rutherfords experience is in Sales and Marketing and he brings a broad Internet Marketing knowledge base to RMSEA after obtaining a Master's Degree in Internet Marketing from Full Sail University. Matt is able to bring both impressive academic credentials as well as real-world experience to the team, and were looking forward to him helping us connect with more businesses who could use our services, Barefoot stated.
About the Rocky Mountain Search Engine Academy:
The Rocky Mountain Search Engine Academy (RMSEA) is a licensed affiliate of the Search Engine Academy of Toronto, Canada, and is based in Grand Junction, Colorado. The RMSEA offers workshop-based, professional SEO training to business leaders and web professionals in Denver, Colorado and Salt Lake City, UT. The RMSEA also offers in-house corporate training to businesses nationwide. For more information call 970-773-5222 or visit their website, http://www.RockyMountainSearchAcademy.com.
Ross Barefoot is an SEO and Web Development veteran, having worked in web design and programming, search engine marketing, and corporate training for almost 20 years, having built his first website in 1996.