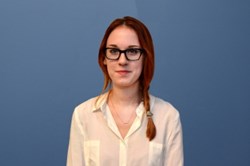 Charlotte, NC (PRWEB) January 16, 2014
Charlotte's top digital marketing agency has recently hired Samantha Colletta to strategically develop and expand their Social Media Marketing and Public Relations team. She will be working with the company on established clients and projects, while providing outstanding communication services for each unique assignment.
Colletta provides a unique mix of experience in the social media and digital marketing industry. With over three years of experience in supporting brands, and maintaining relationships throughout various social media networks, such as Twitter, Facebook, Instagram, Tumblr, and Pinterest, Colletta possesses the ability to serve as a savvy team player, and brings a fresh, creative perspective to the team and their clients.
I pride myself on great communication skills, new ideas, and efficiency with all I do, says Colletta. I am excited to work and grow with such a talented and well-respected marketing agency!
Some of her recent experience is with Red Earth Trading Company, a non-profit organization founded in Nashville, TN, which she has worked with for two years. The company's mission is creating a brand that is as life changing as it is fashionable. Red Earth has been collaborating with artisans in Uganda and Kenya to create high quality handcrafted jewelry, accessories and home goods. Colletta, volunteering her time and skill to promote their brand and increase their sales through her large following on top social networks, has proven very successful and she is proud of what the company stands for and how they create a beautiful experience, both aesthetically and communication-wise for their clients.
Colletta is innovative, and brings a refreshing approach to PR and Social Media Marketing, says Roy Morejon, President of Command Partners. She will be an essential asset to our constantly growing team, and will greatly impact both our local and global startup clients from the get-go.
From contributing to technology blogs, and promoting local businesses, Command Partners is confident that with Samantha's motivation and enthusiasm, she will provide the team with a positive and enthusiastic mindset. To learn more about the Command Partners marketing team, visit http://www.commandpartners.com/our-team.
About Command Partners
Command Partners works with innovative clients around the globe and focuses on results-driven marketing strategies for driving online visibility and lead generation through social media marketing, search engine optimization, public relations, and strategic advisory services for startups. To learn more about the companys digital marketing services, call 704-910-5727 or visit http://www.commandpartners.com, Like them on Facebook or follow them on Twitter @CommandPartners.