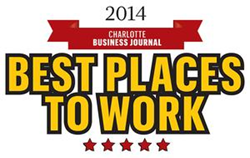 Charlotte, NC (PRWEB) September 26, 2014
Command Partners, Charlottes premier digital marketing agency, has been named one of the Best Places to Work for 2014 by the Charlotte Business Journal. The agency will receive this honor on November 13, 2014 at the Charlotte Convention Center. The exact rankings of the honorees will be revealed during the program.
To appoint the award, the Charlotte Business Journal looks for companies whose benefits, policies and practices are among the areas best. Command Partners is a young agency that has grown by leaps and bounds for the past three years. The company is a small team that works closely together be the best in their SEO, PPC, Social Media Marketing, Public Relations, Mobile Marketing, Email Marketing, Website Development, and Website Design services.
Though we have experienced tremendous growth recently, Command Partners has continued to focus on a close, team-oriented environment, Roy Morejon, President of Command Partners, said. Its really gratifying to affirm that our employees are just as happy and close as they have been in previous years.
Command Partners has also been identified as one of the Top marketing Agencies for Startups by The Agency Post earlier this year. By working with wildly successful crowdfunding projects, such as Bunch O Balloons, HEXO+ and GOkey, Command Partners has pinpointed the type of action-oriented and results-focused marketing that startups need. Because of their expertise, Command Partners has been able to raise more than $ 10 million for their crowdfunding clients in the past 3 years. From pre-launch advisory services to launch to e-commerce, Command Partners has built the experience and skill to build startups from the ground up, making them successful both during and after their crowdfunding campaigns.
The entire Command Partners team anticipates continued excellence in the digital marketing sphere and look forward to future growth. To view case studies of projects Command Partners has helped fund or to request a quote, visit their agency website.
About Command Partners
Command Partners works with innovative clients around the globe and focuses on results-driven marketing strategies for driving online visibility and lead generation through social media marketing, search engine optimization, public relations and strategic advisory services for startups. To learn more about the companys leading digital marketing services, call 704-910-5727 or visit http://www.commandpartners.com.