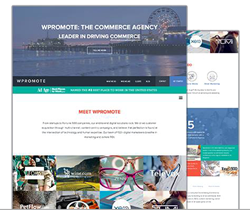 El Segundo, CA (PRWEB) January 08, 2015
On January 7th, 2015, online marketing firm Wpromote rang in the New Year with a celebrated new site and a company-wide rebranding. The overhaul serves the dual purpose of refreshing the look and feel of the firm while also establishing the companys position as the nations first, and only, Commerce Agency. Wpromote is defining Commerce Agency as an agency that drives all types of conversions online for Ecommerce, business-to-business, direct response, nonprofit/charity, and any other model imaginable. The formal definition, available on the new website, goes on to describe the firms role as a digital, multi-channel, content-centric customer acquisition agency. 2015 is poised to be the most exciting year in the history of Wpromote, and we are incredibly thrilled to share the amazing things we are doing with our clients and partners with the world, said CEO & Founder Michael Mothner of the change.
The Wpromote website has undergone a complete transformation, updated to reflect the companys values, amazing work, and status as an industry leader. Information site-wide has been refreshed with the firms new branding, accompanied by a plethora of new case studies. The sleek new interface incorporates the latest trends in web design and delivers a better overall user experience. The logo has also been significantly revamped, reflecting the firms forward-thinking new direction with its contemporary, minimalist design.
In addition to stylistic upgrades, a significant number of new service pages have been added to the site focusing on content marketing. As a Commerce Agency, Wpromote will be redoubling efforts in 2015 to create content-centric campaigns, grounded in crafting engaging infographics, developing and promoting scholarship campaigns, and utilizing the recently formed in-house creative team to make new Wpromote video ads for sharing on YouTube, Vimeo, and Facebook. The reach and viral potential of content marketing are taking center stage in Wpromotes service offerings from 2015 onward.
As the nations leading and indeed only name in digital Commerce marketing, Wpromote is leveraging its rebranding to position itself as the agency equipped to meet every online marketing need of any potential client, regardless of whether that client is Ecomm or has another business model entirely. The firm has grown exponentially in order to support this new initiative, with a goal of reaching 150+ employees set for the first months of the year.
Along with a new site, branding, content, and team members, Wpromote is pushing forward with new thought leadership initiatives, including creative and editorial output designed to keep Wpromote at the forefront of industry conversation. Additionally, various internal departments of the company will be joining forces to ensure the most up-to-date information about Google algorithm changes and general evolutions in the capabilities of the industry.
The new site is available immediately at http://www.Wpromote.com.
About Wpromote

Founded in 2001 by Michael Mothner, Wpromote is an award-winning online marketing firm headquartered in El Segundo, California. Wpromote has helped hundreds of clients from startups to Fortune 500 companies grow their businesses online with end-to-end digital solutions. Through integrated search, mobile, and social marketing, the firm has helped Toyota, Bayer HealthCare, Verizon, TOMS, Dickies, Wienerschnitzel, Cleveland Golf, Qlik, TUMI, and Zenni Optical dominate the online Commerce space. With unmatched experience in multi-channel, content-centric campaigns and unrivaled dedication to clients results, Wpromote helps companies big and small act and move like large enterprises. For more information, visit http://www.Wpromote.com.