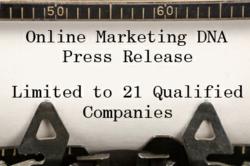 Orange, CA (PRWEB) August 21, 2012
Online Marketing DNAs chief marketing strategist will limit the number of qualified companies to twenty-one. When asked why a limit, Mr. Volkov replied that the business model is not like other Search Engine Optimization (SEO), Social Media, Data Research or Public Relation companies. We take a more analytical approach in refining the lagging data indicators to strategically create a plan of attack.
Cross channel marketing strategies for B2B companies and Retail companies take an extreme amount of planning, strategizing and testing. Getting it correct straight out of the gate is almost impossible. Online Marketing DNAs clients know that they will spend most of the time testing niche geo-targeted markets before they even roll out a plan for the client. Once they see positive results they will scale up for that specific client.
When Volkovs cross-channel marketing consulting clients needed a simple solution to a difficult problem he went into action. He then started laying out the plans for Online Marketing DNA (OMDNA) as a marketing service provider. OMDNA will eventually be a full service SEO and Social Media marketing agency. However, they will cater only to a handful of clients who understand the need for Social Media Marketing (SMM), Search Engine Marketing (SEM) and Pay Per Click (PPC) advertising.
The key to online success is to be committed to the plan and to be able to adapt to the ever-changing interweb. The marketing services that will be provided by OMDNA are the very same that Mr. Volkov currently shares with his high end consulting clients but will be scaled down so that they can be offered at a reduced rate.
Volkov states that this simple solution will make it easy for small mom and pop businesses to stay focused on their core business while OMDNA does all the grunt work; and medium to large businesses will be able to free up some staff to do more important and productive duties within their core business.
The marketing programs will start as low as a few thousand dollars per month and companies will have to qualify for the program. Volkov insists that this is a slow and steady process that takes time to map out into a master strategy, companies have to be committed for the long haul and have the financial means to do so.
Companies have already been calling to see if they qualify for the program. OMDNA will take only the most committed twentyone out of all applicants to expand their online presence.
No official launch date has been etched in stone at this time, but further information should be forthcoming in the next few weeks.
For additional information contact: Barbara Thorpe at 360-527-2630 or Barbara(at)onlinemarketingdna(dot)com, or visit http://www.OnlineMarketingDNA.com.
About Online Marketing DNA

Online Marketing DNA provides cross channel search engine optimization (SEO) and marketing services for social media to help boost online visibility for businesses. OMDNA uses its own proprietary proven system to leverage technology that is cost-effective as well as being scalable.