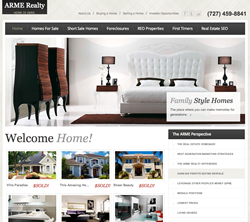 Tampa, FL (PRWEB) October 17, 2013
Clearwater, FL-based real estate article marketing company ARME Realty.com announces the release of their latest article marketing programs specifically for professionals in the real estate industry. With more busy real estate agents leveraging the power of the internet to distribute their sales messages, the announcement from the company could not have come at a more appropriate time.
ARME Realty.com offers various search engine marketing and article marketing programs for real estate professionals. Their approach to search engine marketing is focused on the distribution of good article content to various high traffic website portals. The company claims that these portals tend to outrank 80% of all highly optimized real estate websites, and as a result their search engine marketing strategy is focused in this area.
Utilizing the latest tools and services, ARME Realty.com's real estate article marketing programs allows a real estate professional interested in producing and distributing a message a "hands off" way to both produce and distribute their messages. The company contracts with hundreds of highly educated writers who contribute quality content across various niches from real estate to electronic entertainment. Their pool of writers is qualified on a star basis with one star being the worst in quality, and 5 stars being the best. ARME Realty.com only uses 4-5 star writers for clients in the real estate category.
While the complete list of websites that real estate articles can be viewed on request, it currently includes over 300+ high traffic websites and content portals. Each website will have a unique version of the content and will target specific keywords pertaining to the agents real estate sales goals. If the agent is focusing on buying and selling of town homes, then the articles are created specifically for that niche and contain all of the necessary long tail keyword phrases necessary for the article to rank highly in Google and other search engines.
For more information about the company's article marketing services, visit their website at ARME Realty.com or call the firm at (727) 459-8841 today.