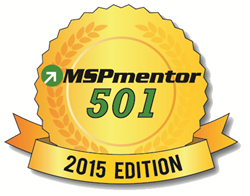 Roswell, GA (PRWEB) April 08, 2015
Computer Design & Integration Managed Services (CDI MS LLC) has been named to Penton Technologys MSPmentor 501 Global Edition, ranking at number 57. In its eighth year of publication, this distinguished list and report identifies the worlds top 501 managed service providers (MSPs) for 2015.
The MSPmentor 501 list ranks Managed Service Providers based on annual recurring revenues, dollar growth, percentage growth, devices managed and more. Based on Pentons annual survey, the MSPmentor 501 results are conducted in December/January each year.
We are honored to be named to the MSPmentor 501 list again this year because it helps distinguish our company from the competition and recognizes us as a top ranked managed services solutions provider, says John Carter, president, CDI Managed Services. Were committed to providing our customers with unmatched solutions and are proud to be recognized by MSPmentor for our efforts.
This year the top MSPmentor 501 companies, including CDI Managed Services LLC, recorded higher recurring revenues than ever before. Combined, the total annual recurring revenues for all of MSPmentor 501 2015 companies reached a record high of $ 3.95 billion in 2014, up 26.5 percent year over year.
"Thank you to all the companies who participated in this year's MSPmentor 501 survey, and congratulations to the companies that ranked on our list," said Jessica Davis, editor in chief of MSPmentor and executive editor at Penton Technology. "Your participation enables us to continue to provide you with high-quality information about the most successful business models, pricing, vertical markets and other approaches to running your businesses in 2015 and beyond."
MSPmentor, produced by Penton Technology, offers the number one online media destination for managed service providers worldwide. It features the industrys top-ranked blog, research, Channel Expert Hour Webcasts and FastChat videos.
About Computer Design & Integration Managed Services (CDI MS LLC):

Computer Design & Integration Managed Services (CDI MS LLC), a Roswell, GA-based wholly owned subsidiary of CDI LLC, helps companies with stringent IT requirements increase operational efficiencies and reduce cost by providing proactive managed technology solutions at a fixed monthly rate. CDI MS LLC customers show dramatic improvements in essential technology-specific Key Performance Indicators (KPIs), while reducing operational costs by as much as 30 percent.
About Computer Design & Integration (CDI LLC):

CDI LLC was founded in 1995, with corporate headquarters in Teterboro, NJ, as well as office locations in New York City, Philadelphia, Charlotte and Atlanta. The firm has been recognized as one of the nations top 500 IT solution providers offering clients and businesses of all sizes the most up-to-date hybrid IT technology solutions that solve todays most complex business challenges. CDI LLC continually focuses on achieving the client satisfaction by developing and implementing comprehensive and innovative technology solutions that enhance day-to-day business workflow processes. As one of the largest solution providers, CDI combines the required experience, exceptional talent, quality assurance and stability that their clients strive to achieve.
For more information, visit cdillc.com or call 1-800-234-5531. Follow us for continual coverage on Twitter @cdillc or via our YouTube Channel.
About Penton

Penton drives performance for more than 16 million professionals each and every day. They rely on us to deliver: Insights, information & workflow tools to inform critical business decisions; networking & community to engage them with industry peers & partners; and data & marketing services to advance their business performance & deliver ROI.