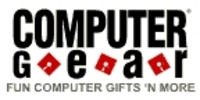 Woodinville, WA (PRWEB) November 3, 2009
ComputerGear, Inc., the expert in tech, science and math gifts since 1993, announced today its Holiday 2009 Gift Guide for best-selling Christmas and Hanukkah gifts within everyone's budget. With over 200 gifts less than $ 20.00, ComputerGear's mail order catalog and web site http://www.ComputerGear.com features fun gifts 'n gadgets for the computer, math and science buff. This year's unique gifts from funny T-shirts to a 3D Star Ship Earth Globe highlight ComputerGear's wide assortment of apparel, gadgets, children's science kits, Star Trek collectibles and gifts designed to make tech, science and math fun. Most of these gifts are only available from ComputerGear.
"For over 15 years, the ComputerGear mail order catalog and web site is the place to find unusual gifts," said Terry Powers, ComputerGear, Inc. spokesperson. "And with over 200 gifts less than $ 20.00, we're predicting the best gifts selection for every budget this year to make your gift-giving easier and less stressful."
A ComputerGear gift is guaranteed to delight the most discriminating on your Christmas or Hanukkah gift list. The unique gift selection, mail order catalog, easy to use website, gift registry, gift-wrap and gift certificate card program, fast shipping and superior customer service combine to make ComputerGear the expert in gifts for geeks.
ComputerGear offers the following top gift selections with prices to fit every budget. Visit http://www.ComputerGear.com for hundreds of other gift ideas sure to please.
Top Holiday Gift Ideas from ComputerGear
Gifts under $ 10

HYPOTROCHOID ART SET — Easy and fun gift art set turns math into art ($ 9.99)

EXCLUSIVE PANIC BUTTONS SET AND ANY KEY SET – Gift humor with these novelty computer keys sets that relieve stress and make you laugh ($ 9.99)

DRINKING BIRD — Classic gift toy teaches science and chemistry ($ 9.99)
Gifts under $ 25

EXCLUSIVE ENGINEERING CHEAT SHEET T-SHIRT — Need engineering help? Then this gift T-shirt printed all-over with engineering concepts, equations and hints is for you! ($ 24.99- 26.99)

NO I WILL NOT FIX YOUR COMPUTER T-SHIRT — Let everyone know wearing this funny T-shirt ($ 19.99-$ 21.99) at No I Will Not Fix Your Computer T-shirt

EXCLUSIVE USB CHRISTMAS TREE — Plug it into your USB drive and watch it cycle through LED lights to light-up your gifting season ($ 17.99) AT USB Christmas Tree

PUMPKIN PI T-SHIRT – gift a "tasteful" gift with this tee-riffic pumpkin pie-colored T-shirt that sweetens your mathematical fashions ($ 19.99-$ 21.99)
Gifts under $ 50

SCROLLING LED T-SHIRT — Wear your personalized message in lights with this gift T-shirt with scrolling LED display ($ 39.99-$ 41.99) at Scrolling LED T-shirt

KINETIC CLOCK — Motion clock entertains as it keeps time. Each minute a chrome ball drops into a track then on the hour, when the tray is full it automatically empties, sending one ball to the hour tray and the remaining balls cascade back to the hopper for the next hour's use ($ 39.99)

EXCLUSIVE PERSONALIZED DOG TAG USB FLASH DRIVE — Keep important files close to your heart with this gift ($ 39.99)

MATH QUIZ WALL CLOCK — Unusual gift clock tests your math knowledge ($ 34.99)
Gifts under $ 100

EXCLUSIVE 18″ GIANT TALKING STAR TREK SPOCK AND KIRK DOLLS – Perfect gift for your Star Trek fan, these Captain Kirk and Commander Spock action figures stand above the rest. ($ 79.99) at Giant Star Trek Talking Spock Doll and Giant Star Trek Talking Kirk Doll

EXCLUSIVE EXECUTIVE 8GB USB PEN – Gift a practical gift and take your files with you with this distinctive ballpoint pen with 8GB flash drive ($ 99.99)
Gifts under $ 200

RUBIK'S TOUCHCUBE – Gift the world's #1 puzzle now with cutting edge technology that uses motion-detecting accelerometer to play with a simple swipe of their fingers ($ 149.99) at Rubik's TouchCube

INTERACTIVE R2D2 ROBOT — Own your very own personal droid with this state-of-the-art Star Wars R2D2 replica. Incredible gift — he rolls, spins, plays games and responds to over 40 voice commands to keep you company and amused. ($ 199.99) at Interactive R2D2 Robot

EXCLUSIVE STAR WARS USB FLASH DRIVE SET – Let the force keep your files safe and handy with this Star Wars gift of 4GB Flash Drive Vader, Yoda, Boba Fett, and Stormtrooper. ($ 129.99)
Gifts over $ 200

EXCLUSIVE ULTIMATE 24K GOLD STIRLING ENGINE – The ultimate gift for someone who has everything! Own the model engine you've always wanted. ($ 379.99) at Ultimate 24K Gold Stirling Engine

STAR SHIP EARTH GLOBE – Gift the universe with 3D star atlas ($ 424.99)
ComputerGear sells a wide range of fun and educational gifts through their web site http://www.ComputerGear.com and mail order catalog. Since 1993, ComputerGear's been making tech, science and math more fun and meeting the needs of enthusiasts including programmers, engineers, math and science buffs. Corporate offices are at 19510 144th Ave NE #E5 Woodinville WA 98072. For a catalog or more information call ComputerGear, Inc. at (800) 373-6353 or visit the web site at ComputerGear.
# # #