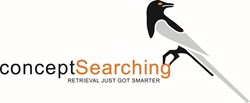 McLean, VA, US and Stevenage, UK (PRWEB) April 29, 2013
Concept Searching, a global leader in semantic metadata generation, auto-classification, and taxonomy management software and developers of the Smart Content Framework, is pleased to announce the first webinar in the 2013 Expert Webinar Series hosted jointly with PPC, entitled Maximizing Productivity and Innovation with Collaboration and Knowledge Sharing Architecture, taking place on May 21st.
In their third year, these webinars have proven to be highly successful and informative. The series has been designed to offer both an educational and practical approach, providing strategic as well as tactical guidelines and knowledge.
Registration is now open for the webinar Maximizing Productivity and Innovation with Collaboration and Knowledge Sharing Architecture, on Tuesday, May 21st, at 11:30 AM – 12:30 PM EDT.
In today's business world, employees can collaborate from anywhere, inside or outside the organization. While this new way of work can improve business performance, it can also lead to disruptions and distractions that kill worker productivity. Organizations struggle with how to implement and deploy a collaborative solution to gain the benefits.
In the webinar PPC and Concept Searching will discuss strategies for creating a virtual collaborative environment that improves productivity, engagement and encourages an innovative culture, while decreasing traditional costs of collaboration. This complimentary webinar explores how to design taxonomies around value information assets that demand cost-effective, innovative forms of information processing for enhanced insight and decision making. The session will discuss how this approach drives value and delivers a superior end user experience across multiple platforms, improving findability and therefore user engagement.
Expert speakers will be Heather McAuliffe, Principal – Content Strategist at PPC, and Don Miller, Vice President of Sales at Concept Searching.
Full details of the 2013 Expert Webinar Series 2013 can be found here.
Follow Concept Searching: http://www.twitter.com/conceptsearch
About Concept Searching

Founded in 2002, Concept Searching is now the industry leader specializing in conceptual metadata generation, auto-classification, and taxonomy management. Platform agnostic, Concept Searching is also a Microsoft managed partner with a Gold competency in Application Development, and offers a complete suite of SharePoint solutions. The award winning technologies integrated with Concept Searchings Smart Content Framework encompass the entire portfolio of unstructured information assets in on-premise, cloud, or hybrid environments. Clients have deployed the intelligent metadata enabled solutions to improve search, records management, protection of privacy data, migration, text analytics, eDiscovery, and Enterprise/Web 2.0.
Concept Searching is headquartered in the US with offices in the UK, Canada and South Africa.
About PPC

PPC is a leading provider and innovator of IT Technology and Management Consulting services, dedicated to providing fully integrated solutions to public and private organizations. PPC has the experience and resources of a large business along with the focus, agility and innovation of a small business. As an independent consulting firm, we offer impartial, in-depth discovery and analysis resulting in unbiased solutions that emphasize increased quality, efficiency and effectiveness for our clients.
All product and company names herein may be trademarks of their respective owners.