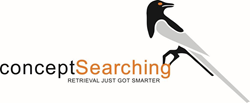 McLean, VA, US and Stevenage, UK (PRWEB) April 30, 2015
Concept Searching, the global leader in semantic metadata generation, auto-classification, and taxonomy management software, and developer of the Smart Content Framework, has, in response to market demands, updated its conceptClassifier platform to integrate with and support Google Search Appliance.
Enterprise search remains an unsolved challenge in many enterprises. With an abundance of content being ingested and created, it is becoming more and more difficult for staff to find the information they need to perform their tasks. It is estimated that end users spend 2.5 hours per day searching. This results in increased organizational costs, increased risk, and loss of productivity. Typically ignored as a low priority, the impact of poor search results has now been escalated to the boardroom as a key issue.
Concept Searching has found that Google Search Appliance is being deployed more frequently in accounts with either SharePoint or non-SharePoint environments. Demand for its metadata generation and auto-classification to be coupled with Google Search Appliance has led to the new release of conceptClassifier. Now clients deploying Google Search Appliance can also benefit from Concept Searchings market leading metadata generation and auto-classification platform.
Erroneous metadata populating the search engine index will always result in irrelevant results. Without a third party tool, Google Search Appliance does not currently have the ability to automatically tag content, nor auto-classify it to a taxonomy product. The integration of conceptClassifier provides a new level of granular depth to the Google Search Appliance.
Concept Searchings industry unique compound term processing enables the identification and the correct weighting of multi-word concepts in unstructured text, affording the rapid creation of semantic metadata, which can be used to apply organizationally aligned descriptors to content. The tagging and auto-classification of that content can be aligned with business goals, and the semantic metadata generated can be easily integrated with any third party application or platform that can interface via web services. When applied to Google Search Appliance, the conceptual metadata will be available to the index, delivering improved search results and the ability to more quickly find relevant content.
We have had repeated requests from customers and prospects to release our market leading metadata generation and auto-classification platform on the Google Search Appliance. Many enterprises are seriously considering Google Search Appliance due to its straightforward, rapid, and easy installation, said Martin Garland, President of Concept Searching. The Google Search Appliance integration feature of conceptClassifier provides enterprises with the ability to capture concepts and relationships that normally would not be found, he concluded.
About Concept Searching

Concept Searching is the industry leader specializing in semantic metadata generation, auto-classification, and taxonomy management. Platform agnostic, Concept Searching also has a Microsoft Gold Application Development competency, and offers a complete suite of SharePoint and Office 365 solutions. The award winning technologies integrated with Concept Searchings Smart Content Framework encompass the entire portfolio of unstructured information assets in on-premise, cloud, or hybrid environments. Clients have deployed the intelligent metadata enabled solutions to improve search, records management, identification and protection of privacy data, migration, text analytics, eDiscovery, and enterprise social networking applications.
Concept Searching is headquartered in the US with offices in the UK, Canada and South Africa. For more information about Concept Searchings solutions and technologies visit http://www.conceptsearching.com and our Blog, and follow us on Twitter and LinkedIn.
All product and company names herein may be trademarks of their respective owners.