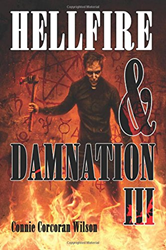 (PRWEB) April 30, 2015
"Hellfire & Damnation III" is the third in a terrifying series by award-winning author Connie Corcoran Wilson that explores the sins or crimes in each of the nine circles of Hell (limbo, lust, gluttony, greed, anger, heresy, violence, fraud, and treachery) as depicted in "Dantes Inferno."
To celebrate the launch of the new ebook, the author is offering this Kindle edition to fans for free on May 2-4, while also while also making readers aware of the first two books in the Hellfire & Damnation series.
Connie (Corcoran) Wilsons 'Hellfire & Damnation' is a remarkable collection of somber, noirish, flat-out scary and altogether satisfying stories that seek to find hope in a dark world that defies it. Her subtle irony and penchant for finding terror in the least expected places will generate comparisons to Stephen King and Ray Bradbury, with just a hint of Philip K. Dick thrown in. But dont be fooled: Wilson has a wondrous voice in her own right, and her tight, twisty tales establish her as a force to be reckoned with. New York Times Best-selling author Jon Land
This edition features nine stories, seven of which are based on true events. This adds authenticity to tales ranging from a new species of spider to a crazed Satanist urging a mentally challenged young man to commit murder. Settings range from New Zealand to Washington State and are illustrated.
Let me start right off by saying that Connie Wilson presents what I call matter-of-fact horror. She writes solid, declarative sentences rife with dark undertones. No fancy description for Connie. No sentimental musings. No soft emotionalism. Just hard-edged documentary style storytelling. Jolting objective sentences made all the more disturbing by their cool directness. Frankly and I consider myself well-read in the shock genre I have never encountered a style such as she displays here, in story after story. Connie Wilsons dark talent is unique, and readers will stagger away from her icy tales, stunned and groggy Believe me, Dear Reader, youve never encountered anything like 'Hellfire & Damnation,' the series. I have a final word for it: WOW! William F. Nolan, Living Legend in Dark Fantasy and author of "Logans Run" and "Nightworlds"
Watch the video book trailer at: https://www.youtube.com/watch?v=dHmcLzmxmd0
HELLFIRE & DAMNATION III (ISBN: 978-0-98244-487-0, ASIN: B00SI0G3QY) is available for free from May 2-4 and afterward for $ 10.95 at Amazon. Info, reviews and videos can be found on the authors website:

http://www.HellfireAndDamnationTheBook.com.
The first book in the series, "Hellfire & Damnation" is "an impressive collection, a series of remarkable tales some based on true stories organized around a brilliant and unifying theme that echoes Dantes Inferno: Wilsons harrowing work will stay with you long after you finish the final page. Lisa Mannetti, "The Gentling Box"
HELLFIRE & DAMNATION (ISBN: 978-0-61543-962-4, ASIN: B00V2EFLPW) is also available for $ 10.95
About the second award-winning book in the series, "Hellfire & Damnation II," five-time Stoker winner Gary Braunbeck said: I really don't know how she managed to do it, but Wilson surpasses her previous 'Hellfire & Damnation' collection with its sequel. Her writing is stronger, streamlined, and often lyrical, despite the nastiness her words describe. This is another impressive collection of tales from a writer I could very well learn to hate if she gets much better.
HELLFIRE & DAMNATION II (ISBN: 978-0-61567-781-1, ASIN: B008QNE4Y6) is also available for $ 10.95.
About the Author: The Chicago Writers Association named Connie Corcoran Wilsons last book one of seven Best Books of the Year 2014 published by a Chicago author. She is also the winner of the Illinois Womens Press Association Silver Feather Award (Chicago chapter) as Best Writer of the Year (2012, 2014), and Midwest Writing Center Writer of the Year (2010). She is a member of International Thriller Writers with her novel, "Red Is for Rage," named a Pinnacle award winner in the Thriller category by the National Association of Book Entrepreneurs. A graduate of the University of Iowa and former adjunct professor at six Iowa/Illinois colleges, she maintains three separate series: a novel series ("The Color of Evil"), a short story series organized by the crimes or sins punished at each of the Circles of Hell in Dantes Inferno ("Hellfire & Damnation"), and a children's illustrated rhyming Christmas series ("The Christmas Cats" series). The author was named Yahoo Content Producer of the Year for her on-the-spot coverage of the 2008 presidential campaign with over three million hits on 1,000 articles. The first book in the "Hellfire & Damnation" series, published by the Merry Blacksmith Press, won a Gold Medal E-Lit Award and her work has won many other Jenkins E-Lit awards.