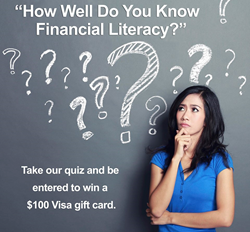 Ft. Lauderdale, FL (PRWEB) April 30, 2015
Even as National Financial Literacy Month comes to a close, the need for free resources that help build financial literacy are still essential so consumers can continue to build their financial literacy level throughout the year. With that in mind, Consolidated Credit has launched a new social media initiative to help consumers test their financial literacy level for a chance to win a cash prize.
The campaign, How well do you know Financial Literacy? is currently being run through the companys Facebook platform. Social media users can take the test for free, answering seven basic financial literacy questions. Once they have completed the test, they are given the options to enter a drawing for a $ 100 gift card. The winner will be selected once 1,000 entries have been received.
Financial literacy is key to being successful managing money, but its not something people usually devote time to when theyre surfing online, says April Lewis-Parks, Community and Public Relations Director for Consolidated Credit. By putting this kind of information on a social platform like Facebook, we hope to reach more people with free financial education they can use to improve their lives.
An extended 20-question version of the test is also available on the companys website, along with a range of Financial Literacy Resources. These resources have been designed to work for consumers interested in building their financial literacy throughout the year, rather than just focusing on the topic for a single month during National Financial Literacy Month in April.
April is a great opportunity to bring awareness to the topic of financial literacy to consumers who may not be familiar with the concept, Lewis-Parks continues, but improving your personal financial literacy should be an ongoing effort.
Consolidated Credit also offers a national hotline number that consumers can use to ask any financial literacy questions they may have directly to a certified credit counselor. The hotline number is 1-888-696-9292 and counselors are available for questions year-round.
About Consolidated Credit: Consolidated Credit is one of the nations largest credit counseling agencies. In over 20 years, they have helped over 5 million people overcome challenges with debt and other financial issues. Their mission is to assist families throughout the United States to end financial crises and solve money management issues through education and professional counseling. Visit ConsolidatedCredit.org for more information.