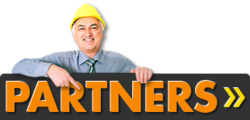 Austin, TX (PRWEB) April 26, 2012
Construction Connection announces the formation of their Partnership Program as part of the goal to become the most relevant online community and informational resource for the entire construction industry. ConstructionConnection.com seeks to promote businesses relevant to construction by working with top industry professionals to provide them a unique landing page within the Construction Connection domain.
As a member of the Partnership Program, companies can post articles to their unique web page on the Construction Connection web site, offering specific expertise and professional insight on topics relevant to the construction community. By contributing regular educational content, partner companies can boost their reputation as an industry expert and thought leader. Every Partner Page utilizes multiple custom-designed banners that can link back to pages in the companys own web site, promoting partner companies with search engine optimization benefits. Construction Connection also posts articles written by partner companies, including the companys logo and footer, to their site blog. Select article content is published via the Construction Connection newsletter, which is distributed to a rapidly growing network of over 35,000 subscribers.
There are four pillars supporting Construction Connections goal of being the premier online community for the construction industry: networking, job matching, information sharing and education. We are excited about the Partnership Program because it not only offers premier construction-related educational material but also because it promotes collaborative sharing of information and resources that will benefit the entire construction community, said Kent Leighton, co-founder Construction Connection. We work only with leading industry professionals in our partnership program so that Construction Connection members can be sure they are receiving information from the best and most authoritative and reliable sources in the construction industry.
Construction Connection was created out of a need for a more effective and streamlined way for construction industry professionals to get matched with the right industry jobs and with the right opportunities. The partners of Construction Connection, both industry professionals themselves, listened to both company and individuals dissatisfaction with the traditional job boards, the paid resume blasts, the overpriced resume services and overall lack of sympathy toward the individual candidate. We also listened to the dissatisfaction from companies who post jobs only to get many irrelevant results or having to purchase high priced ads to showcase their company. Construction Connection is a patent-pending, one-of-a-kind profile creating / match-making system. The system delivers effective results. Construction Connection saves you time, money and aggravation by matching people to people, people to companies, companies to people, and company to company.