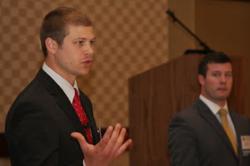 Raleigh, N.C. (PRWEB) June 22, 2013
Members of the Consultwebs.com online legal marketing team described the companys multi-faceted approach to maximizing law firms return on their Internet marketing investment during a special presentation at the recent PILMMA Super Summit in Myrtle Beach, S.C.
Ken Hardison, a lawyer from the North Carolina personal injury law firm of Hardison & Cochran, is the founder of the Personal Injury Legal Marketing & Management (PILMMA) marketing conference. This years Super Summit, held June 6-8, drew roughly 100 attorneys and staff members from law firms across the country.
The conference was informative and enjoyable, said Dale Tincher, the CEO and President of Consultwebs.com. We had the opportunity to talk with several current clients as well as talk with other lawyers who wish to improve their marketing ROI and effectiveness.
Tincher joined Consultwebs.coms Tanner Jones and John Damron in delivering a presentation that focused on describing ways a professionally planned and executed search engine optimization (SEO) campaign for law firms can deliver a lower cost per case.
For instance, Tincher presented Consultwebs.com data showing how the companys clients had obtained numerous cases at a cost per case of less than $ 300 for SEO compared to an $ 800 cost per case for pay-per-click (PPC) advertising and between a $ 950 and $ 1,500 cost per case for TV advertising.
If you look at the hard data, its clear that SEO delivers a much better return on investment than any other advertising medium but it has to be done the right way, Tincher said.
You have to be aggressive but ethical. There are no shortcuts to high search engine rankings, he said. You have to constantly adapt to changes with Google and others, but you also have to make sure that you have a long-term plan for success.
In addition to Tinchers presentation, Jones and Damron discussed how Consultwebs.com has kept pace with the latest hot topics and developing trends in Web marketing, including: