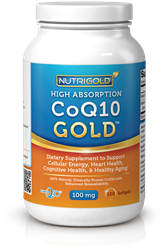 Orem, UT (PRWEB) June 30, 2014
As a company pushing for complete transparency in the supplement industry, NutriGold has worked with multiple third-party labs, including the popular consumer watchdog, ConsumerLab, to validate their supplement, CoQ10 Gold.
A co-enzyme produced naturally in all forms of animal life, CoQ10 offers powerful antioxidant protection, supports healthy cardiovascular and cognitive function, and supports immune health. It is also vital in the production of energy, with especially large concentrations in the heart which depends on high levels of energy for normal operation. As an antioxidant, CoQ10 helps protect proteins and mitochondrial DNA from oxidative damage supporting a healthy heart, brain, and joints. Although the body can typically make the amount of CoQ10 it needs for optimal health, several factors including aging, the use of certain medications, and some diseases can affect CoQ10 levels in the body, making supplementation important.
CoQ10 Gold features Kaneka Q10