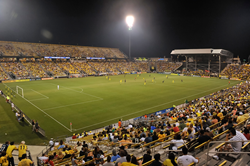 Northridge, CA (PRWEB) April 28, 2015
Contemporary Services Corporation (CSC), the world leader in crowd management and event security, is pleased to continue its now decade-long partnership with MAPFRE Stadium, home to Major League Soccers Columbus Crew SC. CSC Columbus has partnered with MAPFRE Stadium, previously known as Crew Stadium, since 2005. CSCs services, including field security, back-of-the-house security and entrance security, are provided under the direction of Dan Lolli, Director of Stadium Operations.
Home to MLSs Columbus Crew SC, MAPFRE Stadium opened in 1999, has a soccer seating capacity of 19,968, and is the nations first ever soccer-specific stadium. In addition to Crew SC matches, MAPFRE Stadium has hosted US Soccer mens and womens matches including the coveted mens FIFA World Cup Qualifier against Mexico, college football, and ancillary events, as well as outdoor concerts including the annual three-day Rock on the Range music festival. The festival, Americas largest rock concert, hosts 120,000 fans annually and has been a CSC client since 2007.
MAPFRE Stadium continues to bring the nations premiere events to the City of Columbus thanks to our strong operational partnerships, said MAPFRE Stadiums Dan Lolli, When it comes to crowd management, no matter the size or scope of the event, CSC has proven to maintain a safe and enjoyable environment for those in attendance.
CSC Columbus, led by Regional Manager Seyth Boardman, also provides services for clients including Nationwide Arena, Columbus Blue Jackets, The Ohio State University, Ohio University, Kenyon College, Columbus Clippers, Ohio Machine, the Memorial Tournament, Country Superfest, Ohio State Fair and Expo Center, and the Greater Columbus Convention Center.
Contemporary Services Corporation (CSC) is the world leader in crowd management and event security for the entertainment and sporting event industries. Throughout its 48 years of experience, CSC has garnered a loyal and esteemed clientele base, including more than 150 stadiums and arenas, over 100 universities and colleges, more than 30 convention centers, and numerous clients within the professional ranks of MLB, MLS, NBA, NFL, NHL, and NASCAR. CSC has also provided services for the worlds most prestigious special events, including Collegiate Bowl Games, NCAA Final Four Tournaments, Ryder Cup, Presidents Cup, US Open Tennis, 30 Super Bowls, 9 Olympic Games, 4 Presidential Inaugurations, 2 Papal Visits, and 2 FIFA World Cups. CSC operates more than 50 branch locations throughout the United States and Canada.
http://www.csc-usa.com

facebook