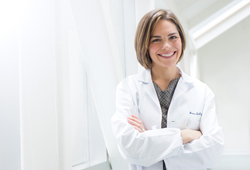 Boston, MA (PRWEB) November 19, 2014
After less than two months of video content marketing on her website, Boston rhinoplasty specialist Dr. Jaimie DeRosa has seen a 70% increase in organic search traffic as compared to the same month last year, a trend that is translating into increased brand awareness and patients.
Social traffic, as measured by Moz Analytics has also significantly increased, up 1,154% from her monthly average.
"We saw a video blog as a chance to reach potential patients early in the research process. Considering facial plastic surgery inherently brings up a lot of questions; I knew I could be a useful resource," says Dr. DeRosa.
Dr. DeRosa launched the video content starting in late September, typically posting to her blog twice a week. Topics ranged from the general, How Long Does It Take Rhinoplasty To Heal?, to the specific and technical, Why Use Rib Cartilage For Rhinoplasty?, in which she discussed the advantages of using rib cartilage versus plastic implants in a rhinoplasty procedure.
The video blog also serves as an introduction for a new skincare practice, launched in her office by medical aesthetician Meredith Gizmunt.
"We are early in this process, but the results so far have confirmed what we had expected: there's a desire out there for useful, helpful information presented in a patient-friendly way. I'm excited to see how this will grow my practice," says DeRosa.
Some Key Facts:
-Social traffic as measured by Moz Analytics increased 1,154% from monthly average.

-Organic Search up 70% in October 2014 as compared to October 2013

-That increase in organic search translates to 255 more users per month just through organic search.

-As compared to the average month in 2014, including the busy summer months, organic search traffic is up 43%.

-October 2014 had the most organic traffic ever to the website.
About Dr. DeRosa:
Rhinoplasty specialist Dr. Jaimie DeRosa is a double-board certified facial plastic surgeon in Boston. Her office is located at 91 Newbury Street in Boston. She operates out of the Harvard-affiliated Massachusetts Eye and Ear Infirmary.
Dr. DeRosa has been an invited lecturer both throughout the United States and abroad. She also is actively involved in both the American Board of Otolaryngology and American Board of Facial Plastic and Reconstructive Surgery board certification processes and acts as the chair of the Fellowship Curriculum Compendium Subcommittee and chair of the Women in Facial Plastic Surgery for the American Academy of Facial Plastic and Reconstructive Surgery.