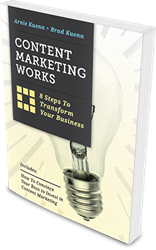 Phoenix, Arizona (PRWEB) December 17, 2014
In a world filled with content, more and more businesses are trying their hand at content marketing. But how can companies stand out above the rest?
The best time to start content marketing was five years ago, the second best time is now; it's the time to get ahead of the competition and make content marketing truly work for your business. Content Marketing Works: 8 Steps to Transform Your Business is a brand new book from Arnie and Brad Kuenn that will teach marketers and organizations the 8 Step Process to growing their business through the convergence of search, social, and content marketing. The full digital version of the book is now available for free download. This book is designed as the ultimate textbook for companies everywhere to learn how to use content marketings strategic principles to engage better with customers, create more leads, and move the business ahead in 2015 and beyond.
With a foreword by prominent content marketing expert, Joe Pulizzi, and a special section entitled "How to Convince Your Boss to Invest in Content Marketing," Content Marketing Works will be the marketing book to read in 2015. As Joe stated: "Content Marketing Works is the opportunity to clean slate your business marketing. This book gives you permission to think and do differently from everyone else. This book is your ticket to becoming the leading informational resource for your particular niche. This book will not only change the way you market, but it will change the way you conduct business."
The steps outlined in Content Marketing Works will help small-to-medium-sized businesses or an enterprise organization build content marketing practices from the ground up with real world case studies, thoughtful lessons, and expert advice. Readers will learn specific ways to link SEO and content marketing; how to create useful content to attract more traffic, more leads and more business; and how to connect with customers on a human level that encourages trust and loyalty.
Each chapter is devoted to one of the 8 steps for successful content marketing and readers will explore them in detail:

1.