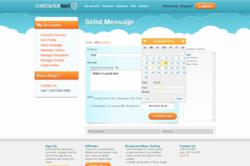 Denver, CO (PRWEB) September 12, 2012
A new web service will help contractors improve business communications. ContractorText was designed to help home improvement contractors streamline their operations and increase profit.
The website makes it simple to contact groups of workers in the field with text messages. The marketing teams, expeditors and office staff can all easily broadcast important memos. Purchase orders are easily updated. Taken all together, it offers construction companies a new level of efficient communication.
ContractorText went live last week after extensive testing and design input from a well-known multimillion dollar contractor.
We worked directly with the development team on ContractorText, said Jerod Raisch, CEO of the Denver area contracting company. We had been using an in-house text service, and they saw the potential. I think they hit it out of the park, its exactly what construction companies need to keep all their employees and subcontractors on the same page.
With various groups of employees, subcontractors, managers, expeditors, purchasing agents, and more, running a contracting company can be a lot of work. Costly errors occur frequently, whether its sending a salesman to the wrong address or ordering too many materials. The use of a mass text messaging service designed for contractors can help with those mistakes.
ContractorText allows users to create custom groups based on the function of an employee. They can send a mass text to a Sales group, for example, giving them a spiff or incentive if they make a sale on their appointments that week. Or a project manager can quickly and easily update the employee in charge of ordering materials from the field.
Messages can even be scheduled for a future date and specific time, allowing users to up a future text or series of messages ahead of time. Message records and Opt-Out options round out the feature suite.
For construction company owner Jerod Raisch, the benefits of improved communication are making themselves apparent already.
Weve seen some great things. A ten percent increase in sales from one group. More frequent incentives from sales managers helped with that, Raisch said.
When asked about the biggest advantage hes seen since using ContractorText, he said, No more I didnt get the e-mail excuses! Everyone gets texts, smartphone or not.
ContractorText streamlines communications throughout construction companies to make sure everyone gets the message on time. Workers may not get e-mail on the go, and it takes time to contact a large group. By sending a broadcast text message to custom groups, employees can perform their duties more efficiently, paving the way for higher profits. More information can be found on the ContractorText website or by e-mailing info(at)contractortext(dot)com.