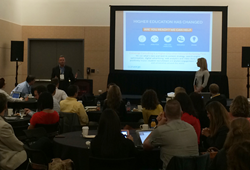 (PRWEB) September 16, 2014
Converge Consulting joined forces with Hubspot, developer of the worlds leading inbound marketing and sales platform, to facilitate a breakfast meet-up of higher education professionals at their annual conference, INBOUND.
Inbound marketing works in higher education. Weve seen it and Hubspot has seen it, said Ann Oleson, CEO at Converge Consulting. Wednesdays keynote speaker Malcolm Gladwell talks about connectors in his bestseller, Tipping Point. We recognize that in higher education, inbound marketing is spreading like wildfire and we wanted to facilitate that connection point for higher ed professionals.
The exclusive higher education breakfast meet-up was held at INBOUND on Tuesday, September 16 from 7:30-8:15am, before the opening keynote by author Simon Sinek. The 45-minute session featured an interactive presentation led by Oleson and Converge President, Jay Kelly, highlighting three stories from schools that embrace inbound marketing. Attendees had the opportunity to ask questions and get real answers from teams with first-hand experience. Networking time was also included as well as a continental breakfast.
There is tremendous higher education representation at INBOUND, said Kelly. We were delighted to welcome individuals from nearly 50 colleges and universities to the meet-up, including Boston College and Haas School of Business at University of California Berkeley.
Converge Consulting is a leader in inbound marketing thought leadership, hosting webinars with hundreds of schools in attendance and an active inbound marketing blog. Oleson and Kelly have presented on inbound marketing for higher education at events presented by the Law School Admissions Council, the American Marketing Association, the National Association of Graduate Admissions Professionals and ACT.
HubSpot inbound marketing software helps businesses get found online, generate more inbound leads, and convert a higher percentage of those leads into paying customers. HubSpot's software platform includes tools that allow professional marketers and small business owners to manage search engine optimization, blogging and social media, as well as landing pages, lead intelligence and marketing analytics.
Converge Consulting is a higher education marketing firm with offices in Cedar Rapids, Iowa and Manhattan Beach, California. Converge uses research, web analytics, inbound marketing, and strategic communications to positively impact student recruitment and alumni engagement for colleges and universities around the world.