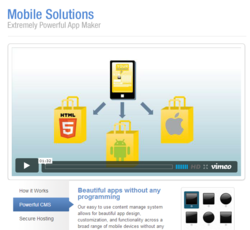 Singapore, Singapore (PRWEB) April 28, 2013
Conversion Hub Marketing has launched a new mobile app platform that allows small and medium companies in Singapore to create their own mobile apps or mobile website without programmers.
CHM Mobile App Platform allows users to easily create a customized app through a web-based content management system (CRM).
Users can create the mobile app without writing any code thus enabling developers and non-developers alike to create native, high performance apps. Apps are built by visual drag, drop and configure technology. This means that companies can utilize any staff with any ability and skill level to build complex, high performance native mobile apps for both iPhone, Android and on HTML5.
No mobile training in Objective-C or Java is necessary. Even non-technical employees in HR or marketing can create their own app without waiting for IT. This is a major empowerment to all business divisions and in mobile marketing.
Additionally multilevel lists make apps layout clearer and easier to navigate, increase performance and simplify mobile app layout and navigation.
In addition to its power content management system, CHM Mobile App Platform has over 500 modules and customization features, including but not limited to :