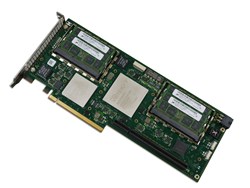 Richardson, TX (PRWEB) November 19, 2013
Convey Computer, a leader in hybrid-core computing, today announced a deal with Dell to develop accelerated solutions using Conveys reconfigurable acceleration technology and Dell servers as part of Convey's recently announced memcached solution.
Convey delivers accelerated hybrid-core solutions to customers who need powerful platforms that reduce time-to-solution, lower operating costs, and shrink data center footprints. This collaboration provides Convey with a reliable, cost-efficient platform for delivering this solution to data centers.
As data centers evolve towards implementing platforms that specialize in different application areas, we remain committed to providing solutions that help customers achieve more, improve efficiency and ensure business continuity, said Robert Hormuth, executive director of platform technology & architecture for the Office of the CTO, Dell. Our work with Convey allows us to couple reconfigurable coprocessing with our advanced server platform to provide specialization for different workloads to be deployed with a common hardware base.
According to Bruce Toal, CEO of Convey, the combination of Dells PowerEdge server technology and market leadership in data center deployments is significant. Our recently announced Wolverine