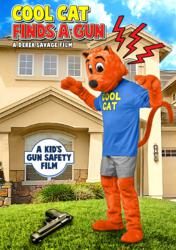 Los Angeles, CA (PRWEB) May 01, 2013
With gun violence against children growing rapidly and weapons continually showing up at schools, COOL CAT is taking the lead with COOL CAT FINDS A GUN.
COOL CAT FINDS A GUN shows kids the right thing to do if they find a gun or see someone at school that has one. And it teaches them through the eyes of Cool Cat and his friends so children can relate to the message.
This project has no political agenda so it is for everyone.
COOL CAT FINDS A GUN is the first gun safety film of its kind! This educational video helps parents and teachers discuss gun safety with kids in an easy and family-friendly way.
There are also Celebrity Kids Gun Safety PSAs by Vivica A. Fox, Eric Roberts and Chief LaChassse, Chief of Burbank Police Department.
The DVD is available on http://www.Amazon.com for only $ 8.95. The DVD also includes the bonus video, Cool Cat in the Hollywood Parade.
See the Trailer on http://www.YouTube.com. Cool Cat is very positive and the brand has received many rave reviews:


"Cool Cat is Adorable and has so much Potential!" Bill Melendez, 9-time Emmy Award winner, producer of Peanuts and voice of Snoopy.
Cool Cat is the Coolest! Dean Koontz, NY Times Bestseller.
"I Love Cool Cat!" Bo Derek, Legendary Actress, Perfect 10.
Cool Cat is Fun! Adam West, the real Batman.
Cool Cat on IMDB – http://www.imdb.com/name/nm4858047/?ref_=fn_al_nm_1
About COOL CAT the brand consists of Eight Books, Three Videos, Clothing line, Mascot, and Celebrity Endorsements. Cool Cat participates in the Hollywood Christmas Parade and is active with charity and police events. Plus the books are bilingual in English and Spanish to have more educational value and appeal to a larger audience.
Cool Cats next production, COOL CAT STOPS BULLYING, stars Erik Estrada and Vivica A. Fox. After Cool Cat gets bullied, he teaches kids how to Stop Bullying in a Non-Violent way! The story also addresses Cyberbullying, which is a growing problem. DVD available 07-01-13.
About author DEREK SAVAGE Derek worked in the Gun Industry for years and has extensive knowledge on Gun Safety. Derek originally created Cool Cat in his childhood as an imaginary friend and has brought the character to life to bring happiness to kids. Derek also writes novels, screenplays, and produces music.
Visit Cool Cats website for Free Downloads and Electronic Press Kit: http://www.CoolCatLovesYou.com.
For more information and to book COOL CAT or Derek Savage, please contact James Smiley of Cool Cat Productions at 818-209-4570, CoolCatLovesYou(at)yahoo(dot)com. Or PR Dept at Blue Thunder Books, bluethunderbooks(at)yahoo(dot)com.