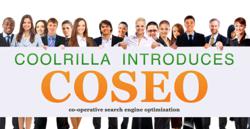 Dublin, OH (PRWEB) April 04, 2013
Coolrilla, leading search engine marketing service, announced today the introduction of its COSEO technology platform for search engine optimization (SEO) and search engine marketing (SEM).
COSEO or co-operative search engine optimization allows all Coolrilla platform users to benefit in the eyes of search engines. With COSEO, traffic, links, and content rate of change are shared for determining value to the search engines. Coolrillas COSEO provides a wealth of opportunity for small businesses to enhance their search rankings. Coolrilla and the COSEO platform provide an assortment of tools built in and a learning environment that makes sure everyone gets off to a good start.
CEO Bruce Lauer explains, Small business has a big uphill battle competing on the internet with larger and better funded competitors, but the COSEO platform levels that playing field.
We found there is a great deal of misunderstanding by the small business community about what it takes to be successful on the Internet, but there is not a magic pill, the results are best when it is worked says CFO Tim Ross.
COSEO has been six years in development in Columbus, Ohio with the 12 months of 2012 serving as a live beta program. Originally, Coolrilla was designed strictly as a do-it-yourself (DIY) platform. Coolrilla, based on its beta period testing, evolved to allow for DIY plus two higher levels of support when it was discovered that some small businesses were not able to commit the personnel time to perform the required monthly marketing functions on the platform.
About Collrilla:
Coolrilla is an affordable , user-friendly online marketing solution for small businesses where clients capitalize on shared SEO, also known as COSEO. Coolrillas COSEO technology ensures search engines view Coolrilla user pages as one umbrella website with a high volume of changing content. This method allows clients to share web traffic for powerful search engine performance and rankings. All Coolrilla users maintain individual branding while reaping the result of COSEO. Coolrilla service is available on a monthly basis with no contract and option to stop service at any month. Coolrilla is a registered trademark of Coolnet, LLC.