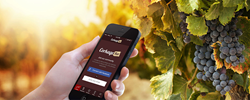 Miami, FL (PRWEB) December 29, 2014
CorkageFee, the only mobile app that centralizes corkage fees from local restaurants, is now available on both iOS and Android devices.
CorkageFee was created especially for wine lovers, allowing users to find restaurants in their area that permit them to Bring Your Own Wine (BYOW). Users can sort restaurants by corkage price, distance, and ratings. Users can also Get Directors and Call the Restaurant making it easier for them to call ahead and make a reservation. With CorkageFee, users can also update or verify corkage fees of restaurants, leaving a special recommendation for wine enthusiasts, or upload images of the restaurants wine list, review their dining experience, and arrange a ride through Uber. The app has an online wine blog with wine tips, reviews, and pairing recommendations that add to its community feel.
The U.S. has been the largest wine consuming nation in the world since 2010. Wine shipments continue to grow and restaurant owners are picking up on the BYOW trend to attract this generation of wine enthusiasts, says Adrian Esquivel, Founder of CorkageFee. In the Bay Area alone, more than 4,000 restaurants allow BYOW and about 12% of them offer no corkage fee, adds Esquivel.
Despite the popularity of BYOW, consumers found it difficult and time-consuming to search for information on corkage prices when choosing a restaurant to dine out. CorkageFee connects wine lovers and BYOW friendly restaurants.
CorkageFee has verified corkage fees for popular U.S. cities, including Miami, FL, New York, NY, Chicago, IL, and California cities, like San Francisco, Napa, Santa Barbara and Sonoma. CorkageFee recently expanded to Canada and continues to grow as more users download and contribute to the community.
CorkageFee is designed and developed by TECKpert, a Miami-based digital agency and incubator and is available for free download in the Apple App Store and Google Play Store.