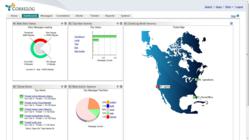 Naples, FL (PRWEB) September 26, 2012
CorreLog, the leader in software solutions for IT security event correlation, today announced that EGIS Systems of Hendersonville, Tennessee has agreed to bundle CorreLog Enterprise Server and Compliance Reporter to EGISs healthcare customers in a managed services model. EGIS Systems provides professional security services and industry expertise to manage cyber threats before they become a risk, helping clients mitigate financial loss and network downtime. EGIS Systems also assists healthcare organizations with HIPAA compliance, assessing policies and procedures to ensure the organizations are aligned with the administrative, physical and technical safeguards implemented by HIPAA. The agreement complements an already-strong EGIS Systems portfolio of security and compliance services with added log management, event log correlation and compliance reporting technology from CorreLog.
The very nature of our managed services model dictates that we needed to find log management technology that was quick to deploy, easy to configure, very functional, and that had compliance reporting right out of the box, said Troy McClendon, EGIS Systems CEO. CorreLog can be deployed in minutes with compliance reports at your fingertips just a few minutes later. This immediately validates the investment for our customer.
EGIS Systems will make available to all current and new customers the following CorreLog functionality:


Syslog collecting from domain controllers, firewalls, routers, and other IT assets in client networks.
Compliance reporting that is unique to each EGIS Systems customer. EGIS Systems requires reporting flexible enough to accommodate each unique client environment.
Flexible architecture that allows easy customization of the user interface to match unique customer environments. The system is flexible and intuitive enough for EGIS Systems resources to modify the UI, and no CorreLog support is required for these updates.
Google-like index searching and filtering to quickly identify and correlate the most relevant log data for anomalies that may indicate cyber threat. Filtering helps reduce log traffic and resource utilization because the host server isnt receiving every log, just the ones that are crucial for threat detection.
We are very happy to be working with Troy and his team to deliver their customers added threat detection and compliance reporting, said George Faucher, CorreLog President and CEO. EGIS Systems is further validating CorreLogs quick deployment, ease of use, intuitiveness, functionality and compliance things we see every day with other customers.
For more information on CorreLog Enterprise Server, please visit http://www.correlog.com. For more information on EGIS Systems, please visit http://www.egisusa.com.
**UPCOMING EVENT: EGIS Systems Use Case Webinar, October 11, 2012**
CorreLog and EGIS Systems will be delivering a use-case webinar on their security solution and services Thursday, October 11, 2012.
Webinar topic: Delivering CorreLog SIEM through MSSP Model
Date: