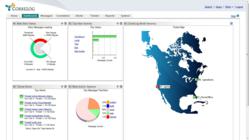 (PRWEB) May 08, 2012
CorreLog, the leader in software solutions for IT security event correlation, today announced a partner agreement with wireless management solutions provider mobileRED. mobileRED and its Integrated Central Command Center provides administrators a single point of control to communicate with any type of mobile device critical issues (i.e. weather problems, disasters, terrorist alerts/warnings, etc) as well as day-to-day business activities such as field service issues, product or facility issues, and other disruptive business events. The Command Center is accessible through any web console or mobile device, and also has certified integrations with BlackBerry Enterprise Server and Active Directory.
Combined with the CorreLog Enterprise log management and event correlation engine, the complementary solutions deliver a powerful IT security platform that can monitor and manage enterprise assets, from mobile devices to distributed and mainframe systems. The mobileRED integration to the CorreLog security information and event management (SIEM) system provides a store for mobile device logs alongside other enterprise event log messages for forensics and reporting.
This partnership gives CorreLog and mobileRED customers an end-to-end solution that allows for identification, tracking and communication of critical information that was previously not available, said Guy Blanchette, mobileRED CEO. Customers are now able to monitor complex data anomalies and automatically communicate with individuals or groups regardless of platform and apply an automated response through their SIEM system.
The CorreLog SIEM system can generate automated helpdesk tickets when the CorreLog correlation engine detects patterns of anomalous behavior that might indicate cyber-threat. The ability to add mobile device logs to the CorreLog SIEM system is significant as attacks to enterprise systems through mobile access points continues to evolve. Another significant component of the partnership is the ability of the system to add mobile device GPS location to user and mobile log data, further aiding forensics.
The emergence of bring your own device (BYOD)the explosion of tabletsrecent attacks through the MAC OS. Mobile device management is presenting some pretty big headaches for enterprises of all sizes, said George Faucher, president and CEO of CorreLog. This partnership gives more ammo to any enterprise, regardless of size, to secure the ship. Were going a step beyond just the mobile device tracking capability though. We are adding automated helpdesk response to potential threat for a more proactive approach.
The CorreLog and mobileRED partnership was finalized in February of 2012. The two companies are currently working on several deployments. For more information on the partnership, please visit http://www.correlog.com/partners.
About CorreLog: CorreLog, Inc. delivers security information and event management (SIEM) combined with deep correlation functions. CorreLog's flagship product, the CorreLog Security Correlation Server, combines log management, Syslog, Syslog-NG, SNMP, auto-learning functions, neural network technology, proprietary semantic correlation techniques and highly interoperable ticketing and reporting functions into a unique security solution. CorreLog furnishes an essential viewpoint on the activity of users, devices, and applications to proactively meet regulatory requirements, and provide verifiable and actionable information. CorreLog automatically identifies and responds to network attacks, suspicious behavior and policy violations by collecting, indexing and correlating user activity and event data to pinpoint security threats, allowing organizations to respond quickly to compliance violations, policy breaches, cyber-attacks and insider threats. CorreLog provides auditing and forensic capabilities for organizations concerned with meeting SIEM requirements set forth by PCI DSS, HIPAA, SOX, FISMA, NERC, NCUA, and others. CorreLog markets its solutions through both direct and partner channels.
About mobileRED: mobileRED, a market leading solution for emergency/priority communication and paging services via smartphone, enables stakeholders to broadcast alerts, forms and documents to any type of mobile device. mobileREDs single-point-of-control provides a powerful platform designed to enable communication through any type of situation, including critical issues (e.g., severe weather conditions, wildfires, earthquakes, terrorist situations) as well as day-to-day business activities (e.g., field service issues, product or production facility problems, compliance, business continuity changes). Available on premise or as a software service, mobileRED can also deliver text alerts to voice lines and voicemail through the integration of text to voice (also known as text to speech (TTS)) conversion service.
Copyright