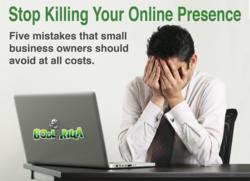 Dublin, OH (PRWEB) May 15, 2013
Coolrilla, leading search engine marketing service, regularly helps businesses grow by increasing their visibility online. Coolrilla states that many businesses fail online due to common mistakes. The good news for businesses is that these mistakes can be corrected easily. Although there are countless mistakes that companies have made online in the past, the SEM experts at Coolrilla have narrowed them down to the following five mistakes that should be avoided at all costs.
Failing to realize that the internet is not a magic wand, it has to be worked. Businesses must realize the search engines are in business to make money, primarily by selling advertising. They do not care about companies unless that company can help them make money. In order to command good advertising rates the engines must provide the best possible search results to its users. So for small businesses to get the search engines attention they must be popular with lots of visitor traffic, provide constant fresh, original, and relevant content, or show evidence that they have a strong following by having others linked to them. In short, businesses must work all of the above every day or they will always have a tough time being found by prospects that are not familiar with their company.
Not picking the right Keywords Optimizing for keywords with no search value will get you nowhere. Do some easy research. A simple check of Googles Keyword Tool can provide you with keywords to optimize your content around.
Not being original. Using duplicate content is a killer. Search engines value new and constantly fresh content. The term Content is King definitely applies. The two things we see most commonly missed by small business when trying to comply with this guideline are not keeping content fresh and using duplicate content. Small business people tend to post once and then not add new content for weeks, months, or very often even years. This will hurt when trying to appeal to the search engines. The temptation to borrow from others seems overwhelming at times. Dont do it! In fact, dont even copy your own content that YOU wrote! Once it has been cached on the internet it cannot be used again. The search engines are not reading but they are matching with very sophisticated software programs. They are very good at finding duplications and will bust your website for using it even if you originally wrote it.
Not having a Call to Action (CTA), just having traffic is not enough. Many business owners ignore CTA or have weak ineffective CTAs like Call Us or Click Here. A call to action is a two part message: what you want them to do and what they get if they do.
Not measuring activity. If it cant be measured, it cant be managed. All businesses should use the free web tracking tool from Google Analytics. Using this tool, businesses can independently verify that the traffic is indeed coming to their websites, what pages they are coming too, and what keywords brought them there. This information can be used to evaluate the effectiveness of the calls to action used in content.
Coolrilla is the first social network exclusively for the promotion of small businesses thus putting Coolrilla at the forefront of the new SEO. Coolrillas propriety COSEO platform (pronounced CO-SEE-OH), short for Cooperative Search Engine Optimization, allows businesses to share web traffic. Small businesses can individually brand themselves on Coolrilla and still receive all the search benefit like the mega websites.
About Coolrilla:
Coolrilla is an affordable, user-friendly online marketing solution for small businesses where clients capitalize on shared or co-op SEO, also known as COSEO. Coolrillas COSEO technology ensures search engines view Coolrilla user pages as one umbrella website with a high volume of changing content. This method allows clients to share web traffic for powerful search engine performance and rankings. All Coolrilla users maintain individual branding while reaping the result of COSEO. Coolrilla service is available on a monthly basis with no contract and option to stop service at any month. Coolrilla is a subsidiary of Coolnet, LLC.