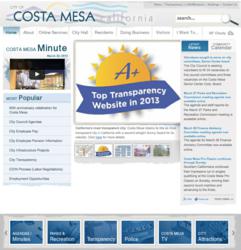 Costa Mesa, CA (PRWEB) March 28, 2013
The City of Costa Mesa, California has launched a new government website. The new website was created in partnership with Vision Internet – The Government Website Experts and showcases a dynamic design, intuitive site navigation, and many convenient online services. It can be visited at http://www.costamesaca.gov.
The new website includes a Transparency section dedicated to openly sharing public information with the citizens of Costa Mesa. Everything from budget-related items to election documentation to public employee pension information has been aggregated and made easily accessible to the public. Costa Mesas dedication to transparency was recognized by the Sunshine Review with a 2012 Sunny Award and cited the City as a shining example of government transparency.
In addition to readily available information, the website provides citizens with access to a number of online services, such as: