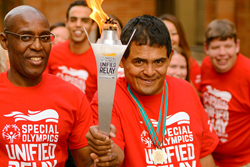 Costa Mesa, CA (PRWEB) March 06, 2015
March 6, 2015 The city of Costa Mesa proudly declared its official partnership with Vanguard University to participate in the 2015 Special Olympics World Games Host Town program. Vanguard will host over one hundred Special Olympics athletes on its Costa Mesa campus, July 21-24, 2015.
We are thrilled to see so many communities eager to participate in this integral component of the World Games, said Patrick McClenahan, president and chief executive officer of LA2015, the Games Organizing Committee. The Host Town program will not only create lasting memories for these athletes and coaches from around the world, but leave a lasting legacy for the communities who are opening their doors, hearts and minds to host these inspiring athletes."
The City of Costa Mesa joins as many as 100 communities across Southern California on the list of officially proclaimed Host Towns. The Orange County Host Towns for the pre-Games celebration include Fountain Valley, Huntington Beach, Irvine, Mission Viejo, La Habra, Fullerton, and Orange.
Vanguard University has a deep history in the City of Costa Mesa and an esteemed tradition of athleticism and sportsmanship through our NAIA Division I men and women athletic programs, said David Vazquez, director of strategic partnerships at Vanguard University. As such, we welcome this natural partnership with the City of Costa Mesa to co-host a delegation of athletes from the 2015 Special Olympics World Games.
With 7,000 athletes and 3,000 coaches expected to participate this summer, The Host Town program is a very significant 3-day program. It takes place prior to the Los Angeles Memorial Coliseum Opening Ceremony of the Special Olympics World Games as a complete welcome roll out. Delegations of athletes from around the world will be welcomed and celebrated at the city of Costa Mesa Host Town, specifically on the Vanguard University campus. Athletes from Orange County will also compete as part of Team USA, as well as volunteer as ambassadors for The Games.
The Host Town program is an exciting way for Southern California locals and Costa Mesa residents to open our doors and show the athletes and coaches from around the world our hospitality and our culture, said Costa Mesa Mayor Stephen Mensinger. This is an important part of the World Games experience and a truly meaningful way for different communities to be part of the Games and create lasting memories for our visiting athletes.
Established in 1968 by Eunice Kennedy Shriver, the Special Olympics has grown into a worldwide movement which promotes the acceptance of people with intellectual disabilities through sports and emphasizing the joy of participation over competition.
For more information on the 2015 Special Olympics World Games, including volunteer and sponsorship opportunities, visit http://www.LA2015.org.
ABOUT VANGUARD UNIVERSITY

Vanguard University (VU) is a regionally ranked, private, Christian university of liberal arts and professional studies. Located ten minutes from Newport Beach and an hour from Los Angeles, Vanguard equips students for a Spirit-empowered life of Christ-focused leadership and service. Vanguard is committed to academic excellence, boasting small class sizes that are designed to cultivate lasting professor-mentor relationships that enhance the learning process. The U.S. News & World Report ranked Vanguard a top 12 regional college in the west and a top veteran-friendly college for 2015, and The Princeton Review ranked Vanguard a 2014 "Best in the West" regional college. Accredited by the WASC Senior College and University Commission, Vanguard offers more than 30 degrees and certificates through its undergraduate, graduate, and professional studies programs. Please visit http://www.vanguard.edu
###