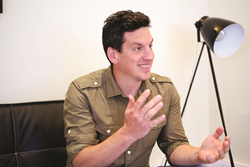 Essex (PRWEB UK)
9 July 2015
Suffolk-based, award-winning sustainable creative agency Zero Above has welcomed Chris Smith to the team, as its new Digital Manager. Chris brings a wealth of diverse marketing experience to the role, particularly in the digital field and his analytical insight and creativity will enhance the agencys digital marketing offer.
Chris grew up in North Lincolnshire, attending Caistor Grammar School and studied Tourism Management in Sheffield before moving to London and working in the travel industry, where he played a major part in establishing Ionian Island Holidays as a significant player in the Greek holiday market. Chris took his experience and ambition to southern Africa and, along with his new business partner, set up Mud Hut Travel, a bespoke online travel company offering tailor made eco safari holidays.
In order to broaden his marketing experience, Chris turned his hand to the luxury motorcar industry with a branding and marketing role with the prestigious Belgravia Garage, set in the heart of Belgravia and Chelsea, supplying a clientele of the worlds most wealthy residents with Ferraris, Bentleys and Rolls Royces. When he decided to escape to the country and moved to North Essex, Chris returned to the travel industry, establishing the digital marketing at Reader Offers Ltd, the UKs number one cruise agent. Despite my previous tourism experience the different target customer demographic, with an average age of seventy-five, made this role more challenging, but they were surprisingly receptive to a new digital experience, says Chris.
Keen to experience marketing from an agency perspective, the position of Digital Manager at Zero Above, is perfect for Chris. He explains, What attracted me to Zero Above was the exposure to completely different sectors and a vast, unique and interesting portfolio, where we use cutting edge digital marketing techniques and technologies. The digital portfolio of Zero Above already includes website design and optimisation, Paid Search, SEO and user experience, and I am looking forward to expanding this portfolio. The opportunity to work locally in a converted barn on the Essex/Suffolk borders is amazing, and enhances my work-life balance giving me more opportunity to enjoy the other passion in my life, sport. A keen hockey player and enthusiastic golfer, cricketer and ten-pin bowler, Chris can turn his hand to most sports, giving him an ideal way to relax after a day of endless creativity at work.