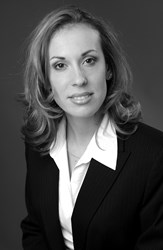 Stamford, CT (PRWEB) November 24, 2013
Creative Partners today announced that Tara Clark, MBA, joins the company as Director of Digital Strategy. Tara will oversee various digital strategies, including social media, SEM, SEO, video production, and email marketing, for both internal and client programs. Tara will also be responsible for launching a social media seminar series.
Its tremendously exciting that Tara Clark, a mass market social media pioneer, will be leveraging her expertise in the social space with Creative Partners. Tara is going to be creating dynamic online conversations for Creative Partners and our clients, says Peter Schelfhaudt, MBA, Creative Partners Chairman and CEO.
A digital native, Ms. Clark has experience in audience development, storytelling and content creation, in both the entertainment and healthcare industries. Most recently, Tara worked in digital marketing at Nickelodeon, where she managed various projects including audience development and social media strategies for Nick Jr., NickMom, and Nick@Nite. Tara was instrumental in bringing social TV strategies to on-air integration for Nick@Nite.
Prior to that, as Founder and President of Profile Media Concepts, Tara produced video projects for medical professionals and various non-profits, including Autism Speaks, the American Society of Mechanical Engineers, and the American Diabetes Association. Starting her media career as an Account Manager at MDTV, Medical News Now, Tara managed advertising accounts and provided marketing consulting services for medical professionals. She also worked as a Producer on the medical education news program, which aired nationwide.
Tara graduated from Villanova University with a BA in Communications and a minor in Business Administration. She holds an MBA in Media Management from the Metropolitan College of New York.
Creative Partners is an award-winning advertising agency connecting people to brands through addictive originality. With offices on the East and West Coasts, Creative Partners specializes in branding and marketing for clients in higher education, financial services, healthcare, architecture and design; creating content and delivering messages in surprising ways that CONNECT, entertain and inform.
Contact: Peter Schelfhaudt, Creative Partners, pschelfhaudt(at)creativepartners(dot)com, 203.705.9211