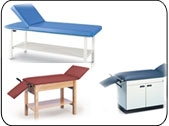 West Palm Beach, Florida (PRWEB) November 30, 2012
Leading supplier of medical equipment and supplies, Cristia Medical Supply, Inc. announces a deal with Hausmann Industries, Inc. to distribute and sell Hausmann brand treatment tables. This new agreement aims to widen the product line and reach of Cristia Medical Supply, Inc. and help to establish itself as a leading national medical equipment supplier with a very broad selection of medical products at wholesale prices. The addition of Hausmann treatment tables could not have come at a better time as demand for treatment tables has increases due to more people being able to afford insurance under the affordable care act.
After doing a lot of research into the many different companies manufacturing high quality treatment tables, the Hausmann brand of treatment tables seemed like the clear choice due to their solid reputation for providing a wide range of quality treatment tables for the past 50 years, stated CEO Cristopher Cristia. The entire line of Hausmann brand treatment tables were phased into the Cristia Medical Supply product offering this year, and are now available on their website for easy and convenient ordering.
Hausmann is adding more and more of their products to their very popular quick ship program. Under the quick ship program, a customers treatment table is now able to ship in only 3 business days compared to the more lengthy 5 day lead time on all other treatment tables. This is an added value feature that has attracted many customers to the Hausmann line of treatment tables.
In addition to expanding their line of treatment tables, Cristia Medical Supply, Inc. also continues to boarded it's overall product offering with over 50,000 quality medical supplies and medical equipment items. Low prices and the ability to ship quickly via multiple warehouse continues to be a prime objective for the company which has paid off in large numbers of loyal customers across the country. Cristia Medical Supply, Inc. is trusted by thousands of medical professionals including doctors, hospitals, and many major healthcare facilities. The ability to offer big ticket medical equipment along side smaller disposable medical supplies has been a key component to the companies strategy. They understand that purchasing agents like to have options, and flexibility when making purchases no matter how big or how small their order may be.
About Hausmann Industries, Inc.
Hausmann Industries, Inc. has maintained a solid reputation of over 50 years as a company that produces quality healthcare products in it's 65,000 sq. ft. factory in Northvale, New Jersey. Hausmann Industries, Inc specializes in eco-friendly treatment tables, therapy/rehab equipment, and medical cabinets. Its factory is equipped with the latest technology yet they still emphasize the human touch that goes into everything they make, and the customer service they provide. Hausmann Industries, Inc. does not provide goods to end users. Instead someone interested in acquiring a Hausmann product must contact one their authorized dealers like Cristia Medical Supply, Inc.
About Cristia Medical Supply, Inc.
Cristia Medical Supply, Inc is a national medical supply company offering over 50,000 high quality medical products from the most trusted names in the business. Some of of their top brands are Medline, Drive, Grafco, Winco, Hausmann, and Blickman to name a few. They are one of the only companies to offer a beat the price guarantee. Unlike others who merely match the price, Cristia Medical Supply takes it a step further and beats it's competitors price ensuring the customers always get the best possible deal. Customers have the ability to create an account by which they can track everything they have ordered in the past, and see very detailed product info. Both Cristia Medical Supply, Inc, and Hausmann Industries, Inc. have developed reputations to be proud of. These are two companies to keep an eye on as they are poised to continue to bring to market more innovative and value added services to the healthcare community.