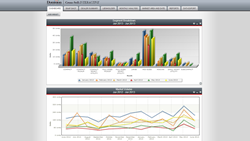 Norfolk, VA (PRWEB) August 13, 2014
Cross-Sell Reports, a division of Dominion Dealer Solutions and industry leader in automotive market intelligence, has announced the launch of Cross-Sell Interactive, a fully interactive version of market reports, to dealers within the state of Georgia. This marks Cross-Sells first step in providing extensive Market Analysis, Statewide Dealer and Leinholder Summaries, and MarketingINTEL reporting solutions to Georgia automotive dealers.
Cross-Sell Interactive features customizable charts and graphs that allow users to create personalized dashboards with key metrics and areas of interest. Dealers located in local markets like Albany, Atlanta, Augusta, Columbus, Macon and Savannah, Ga., can now access the robust charting and graphing of market-based vehicle sales data. The Cross-Sell Interactive dashboard functionality, combined with customization flexibility, enables users to quickly and easily monitor specific areas of interest in a given market.
Shane Marcum, general product manager for Cross-Sell Reports, noted, Cross-Sell Interactive provides Georgias automobile dealers with the tools and information to strategically attack their primary market areas.
Georgia dealers now have the functionality necessary to customize and track competitor sales within a specific market or trade area, giving them a competitive advantage. Dealers can also track their performance against the most relevant local competitors by identifying the top performers in a user-defined market area.
Marcum remarked, Essentially, Cross-Sell Interactive removes the guesswork for the dealer by supplying an abundance of vehicle and location-based market data specifically tailored to where cars actually sell. This directly leads to increased ROI for automotive dealerships in Georgia and enhances their ability to tangibly measure where their advertising and inventory dollars are best positioned.