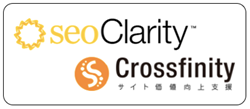 Chicago, IL (PRWEB) March 04, 2014
Crossfinity, a leading interactive digital marketing agency, recently announced a partnership with seoClarity, a leading global platform for search optimization. The partnership establishes Crossfinity as one of the largest agency relationships for seoClarity and provides Crossfinity with full access to the most advanced and comprehensive SEO platform ever developed. To mark the start of this partnership, Crossfinity will be offering demo trials to prospective clients in Japan that are seeking SEO technology to improve upon their current digital marketing efforts.
Partnering with seoClarity lets us bring our clients throughout Japan access to leading-edge technology to drive greater ROI for all of their digital marketing efforts, said Takayuki Kato, President and CEO of Crossfinity. We completely agreed with their progressive approach, prominent technology and great ambition. Through this partnership, we believe that we best prepared to analyze a websites condition and maximize our SEO effect in Japan as well as all of Asia.
As they look to expand further into Asia, Crossfinity saw great advantages in partnering with seoClarity, given the fact that major global brands such as Toys R Us, Dell, Orbitz and HomeAway use the seoClarity platform. Over 1,000 global SEOs use seoClarity every day to manage their optimization strategies and gain a competitive edge.
Were providing enterprises with a radically different approach to SEO. Were not just innovative; from top to bottom, were disrupting the way large