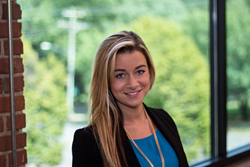 Charlotte, NC (PRWEB) November 08, 2014
Jessica Chesney will be speaking at the Geek Girl Charlotte TechCon. Chesney is the Digital Marketing Manager at Command Partners, a top digital marketing agency based in Charlotte, North Carolina. The conference, to be held on November 15 in Charlotte, is the largest hands-on technology conference for women in the area and includes activities for all skill levels. It will feature workshops that cover a wide range of topics, from running a crowdfunding campaign to basic social media management and learning how to build a mobile app.
Chesney will be joining other experienced speakers on a panel about crowdfunding, a topic she knows plenty about. Chesney, and the rest of the team at Command Partners, has been behind several successful crowdfunding campaigns on Kickstarter and Indiegogo- raising over $ 12,000,000 for their clients.
Im honored to share my crowdfunding experiences and knowledge with conference attendees. Whether youre unfamiliar with crowdfunding or ready to dive in and run your own campaign, youll walk away with information that will help you find success, said Chesney. Its great to know there are conferences out there, like Geek Girls TechCon, that will help women advance in the field.
Geek Girl was founded by Leslie Fishlock after she realized that there are no conferences or workshops aimed towards helping the average woman become more technology-savvy. The Geek Girl tech conferences, held across the country, have something for technology novices as well as the more seasoned user.
Those interested in attending Geek Girl Charlotte TechCon can receive $ 25 off the $ 125 registration fee by using the special promo code CHESNEY. There are also special group rates available. The conference will be held on November 15, 2014 at Central Piedmont Community College in Charlotte, North Carolina. To register for Geek Girl Charlotte, visit https://www.eventjoy.com/e/geek-girl-charlotte-techcon-297299.
If youre interested in learning more about Chesney and Command Partners, visit http://www.commandpartners.com.
About Command Partners
Command Partners works with innovative clients around the globe and focuses on results-driven marketing strategies for driving online visibility and lead generation through social media marketing, search engine optimization, public relations and strategic advisory services for startups. To learn more about the company's leading digital marketing services, call 704-910-5727 or visit http://www.commandpartners.com.