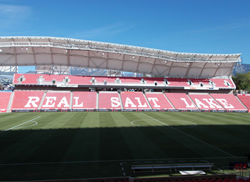 Northridge, CA (PRWEB) February 24, 2015
Contemporary Services Corporation (CSC), the world leader in crowd management, guest services and event security, announces its two-year contract renewal with Rio Tinto Stadium, located in Sandy, Utah. Home to Major League Soccer (MLS) team Real Salt Lake, Rio Tinto Stadium boasts a seating capacity of 20,000 for soccer and 25,000 for concerts. It is also serving as the temporary home for USLs Pro soccer team Real Monarchs SLC.
CSC Salt Lake City, led by Branch Manager Brandon Bates, provides services for Rio Tinto Stadium, a CSC client since 2009, under the direction of Craig Martin, General Manager & VP of Stadium Operations, and Leif Smith, Events Manager, who stated, Our relationship with CSC has been outstanding since Rio Tinto Stadium opened in 2008. We could not be happier with the professional and friendly service we have grown accustomed to with all levels of their staff and organization.
CSC Salt Lake City also provides services for venues including Abravanel Hall, Capitol Theatre, Kimball Art Centre, Kingsbury Hall, Park City Municipal, Sandy City Amphitheater, The Depot, USANA Amphitheatre, and Utah State Fairpark.
About Contemporary Services Corporation:

Contemporary Services Corporation (CSC) is the world leader in crowd management and event security for the entertainment and sporting event industries. Throughout its 48 years of experience, CSC has garnered a loyal and esteemed clientele base, including more than 150 stadiums and arenas, over 100 universities and colleges, more than 30 convention centers, and numerous clients within the professional ranks of MLB, MLS, NBA, NFL, NHL, and NASCAR. CSC has also provided services for the worlds most prestigious special events, including Collegiate Bowl Games, NCAA Final Four Tournaments, Ryder Cup, Presidents Cup, US Open Tennis, 30 Super Bowls, 9 Olympic Games, 4 Presidential Inaugurations, 2 Papal Visits, and 2 FIFA World Cups. CSC operates more than 50 branch locations throughout the United States and Canada.

http://www.csc-usa.com