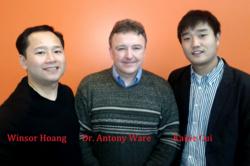 Calgary, Alberta, Canada (PRWEB) March 19, 2013
CTS Forex, a Calgary based software company specializing in automated systematic currency trading, and Dr. Antony Ware from the University of Calgary, received a grant from the National Sciences and Engineering Research Council of Canada (NSERC). NSERC endeavors to foster partnerships between Canadian based firms and Canadian universities by supporting projects of high innovation and technical merits. CTS Forex was chosen for developing a robust mathematical approach that identifies foreign-currency movements and automating trades based on the algorithms analyses. The objective of the grant is to advance the analytical tools that will further CTS Forexs product evolution.
The CTS Forex currency trading software provides high net worth individuals and currency trading fund managers a tool to diversify their investment portfolios and achieve higher rates of return. The software continuously monitors foreign-currency markets to identify and automate profitable trading opportunities based upon the risk and reward criteria set by the trader.
Dr. Antony Ware, Director of the Mathematical and Computational Finance Laboratory, will spearhead the team at the University of Calgary. According to Dr. Ware There is growing acceptance of this novel Forex trading model. The underlying principles used by the mathematical models of risk management and goal setting along with the effectiveness of the predictive algorithms that monitor foreign exchange markets, have proven themselves over the last 33 months. He added that this project could also potentially focus on further developing similar techniques for trading in the commodity markets.