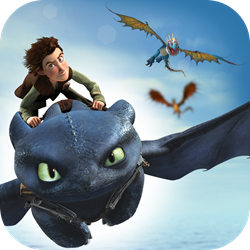 New York, NY (PRWEB) April 24, 2014
Cupcake Digital and DreamWorks Animation have released a new deluxe story adventure based on the Cartoon Network series Dragons: Defenders of Berk. The app welcomes kids into the world of everyones favorite dragon trainer Hiccup and his fire-breathing pal Toothless. The app features two professionally narrated, full-length stories based on favorite episodes of the series. Kids familiar with the popular franchise will enjoy images pulled directly from the show, the option to customize the look of Hiccup and Astrid, and the choice of three modes to read on their own or read along with others.
The app is now available for $ 2.99 on the App Store, Amazon Appstore for Android, Google Play and the Barnes & Noble for NOOK Store.
Next up for the DreamWorks Dragons franchise is the highly anticipated How to Train Your Dragon 2, arriving in theaters June 13, 2014.
About Cupcake Digital

Founded in 2012, Cupcake Digital, Inc. gives kids the opportunity to interact with the characters they love by transforming childrens entertainment properties into award-winning apps. The companys apps are consistently top-ranked on the Apple App Store, Amazon Appstore for Android, Google Play and the Barnes & Noble NOOK Store. Cupcakes licensed IP portfolio includes Wow! Wow! Wubbzy!, Jim Hensons Fraggle Rock, Strawberry Shortcake, VeggieTales, Yo Gabba Gabba!, Animal Planet, The Smurfs, Sid the Science Kid, Barney, Mike the Knight, Cloudy with a Chance of Meatballs, Puss In Boots, How To Train Your Dragon, Madagascar, Shrek, and Kung Fu Panda. For more information about Cupcake Digital Inc. and the iStoryTime Library of storybook apps, please visit http://www.cupcakedigital.com.
About DreamWorks Animation

DreamWorks Animation creates high-quality entertainment, including CG animated feature films, television specials and series and live entertainment properties, meant for audiences around the world. The Company has world-class creative talent, a strong and experienced management team and advanced filmmaking technology and techniques. DreamWorks Animation has been named one of the 100 Best Companies to Work For by FORTUNE