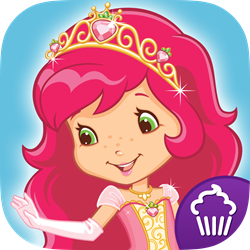 New York, NY (PRWEB) November 14, 2013
Cupcake Digital has introduced Strawberry Shortcake Berryfest Princess, a deluxe story app starring the beloved character and her berry best friends Cherry Jam, Orange Blossom, Lemon Meringue, Plum Pudding and Raspberry Torte.
Kids are invited to join Strawberry Shortcake as Berry Bitty City is buzzing with excitement in preparation for the Berryfest Ball. In the story, Strawberry Shortcake and her friends work together, appreciate each other, and share in all of the fun to make the ball a royal success. The Berryfest Princess story app is available for purchase today on the Apple App Store, Amazon Appstore, Google Play and Barnes & Noble App Store for NOOK, for an introductory rate of 99 cents November 14-17th, and will then be available for $ 2.99.
"Were thrilled to offer moms and children who are fans of Strawberry Shortcake a story app experience full of interactivity and creative ways to play with the characters," said Susan Miller, president, Cupcake Digital. The combination of a feel-good story, learning activities and wonderful ways to explore and create within Strawberrys world add up to an app experience that will delight her fans.
Berry-tastic features include:

An engaging story that reinforces early-learning reading skills with text highlighting and synched narration

Fun-filled activities:

Princess dress-up: Help Strawberry Shortcake and her friends get ready for the ball

Croquet word game: To play croquet with Strawberry, tap the ball with the correct letter to finish