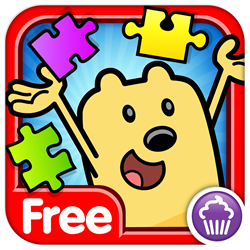 New York, NY (PRWEB) September 19, 2013
Cupcake Digital, Inc. released Wubbzys Puzzles, an exciting free app packed with fun puzzles starring the ever lovable Wubbzy. Kids can meet the silly dinosaurs on Dino Island, blast off to outer space to wake up the Man in the Moon, share friendship cards with the kooky residents of Wuzzleburg and many more adventures from Wubbzys app series. The new app is available today on iTunes, Amazon, Google Play and Barnes & Noble.
Wubbzys Puzzles features 12 interactive jigsaw puzzles with three difficult levels (easy, medium, hard) revealing tappable scenes from many of the "Wow! Wow! Wubbzy!