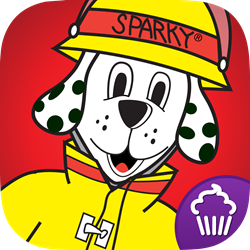 New York, NY (PRWEB) October 01, 2013
The National Fire Protection Association (http://www.nfpa.org) and Cupcake Digital recently introduced a free deluxe storybook app, Sparkys Birthday Surprise, on the iTunes App Store, Amazon App Store for Android, Google Play and the Barnes & Noble App Store for NOOKTM. The app is now available with the option to choose Spanish language at the touch of a button. Designed to teach kids essential fire safety skills such as what to do if they hear a smoke alarm, how to be safe when cooking, and how to recognize things that may be hot in the kitchen, the hope is to reach as many kids as possible this year during Fire Prevention Week, October 6-12, and this was a great opportunity to make the message available to the growing number of Spanish-speaking families in the U.S.
We know that kids can be the influencers on this kind of messaging in their home, says Cupcake Digital President Susan Miller. This project is made more complete by empowering kids who speak Spanish at home to motivate their families to think about and plan for what to do in the event of a fire. Were pleased to be able to lend our bilingual app development capabilities to such an important cause.
The Spanish and English versions of Sparkys Birthday Surprise are perfectly mirrored and are loaded with bright graphics, tap-and-play animations, three modes of reading, interactive and educational games that reinforce reading and counting skills, coloring pages, and a unique sing-along animated song.
NFPA is pleased to be able to make these life-saving fire safety messages available to a broad audience of kids and their caregivers, said Judy Comoletti, NFPAs Division Manager Public Education. We want to get as many people as possible thinking about the importance of having working smoke alarms, practicing home fire drills and a designated outside meeting place in a fun and age-appropriate way.
Fire Prevention Week is October 6-12, 2013. NFPA is the official sponsor of Fire Prevention Week, and has made more information available at http://www.firepreventionweek.org. Parents and children also can visit sparky.org for more fun fire safety activities.
###
About Cupcake Digital

Cupcake Digital, Inc. was established in June 2012, and has been successfully transforming childrens entertainment properties into enhanced story experiences and learn & play apps, giving kids an opportunity to interact with the characters they love. The Company has created noteworthy, award-winning digital applications based on the Emmy